Are you looking for an easily accessible dining area to hang out with your friends or your loved ones after work? Hungry Hub has just the place to recommend! Co Unlimited is a trendy bar with affordable prices and delicious cuisines. The restaurant offers E Sarn food with a local Thai taste. Some examples include Grilled Pork Neck, Grilled Scallop with Garlic Butter Sauce, E Sarn Chicken and Vegetable Stew and many others!
How to get to Co Unlimited
Co Unlimited Groove CentralWorld, is located near the Siam BTS station. Thus, it is a convenient location with many department stores nearby. Take Exit 5 and walk through the sky walk that connects to Central World. You could also alight at the Chit Lom BTS station and take Exit 1, then follow the directions via the sky walk.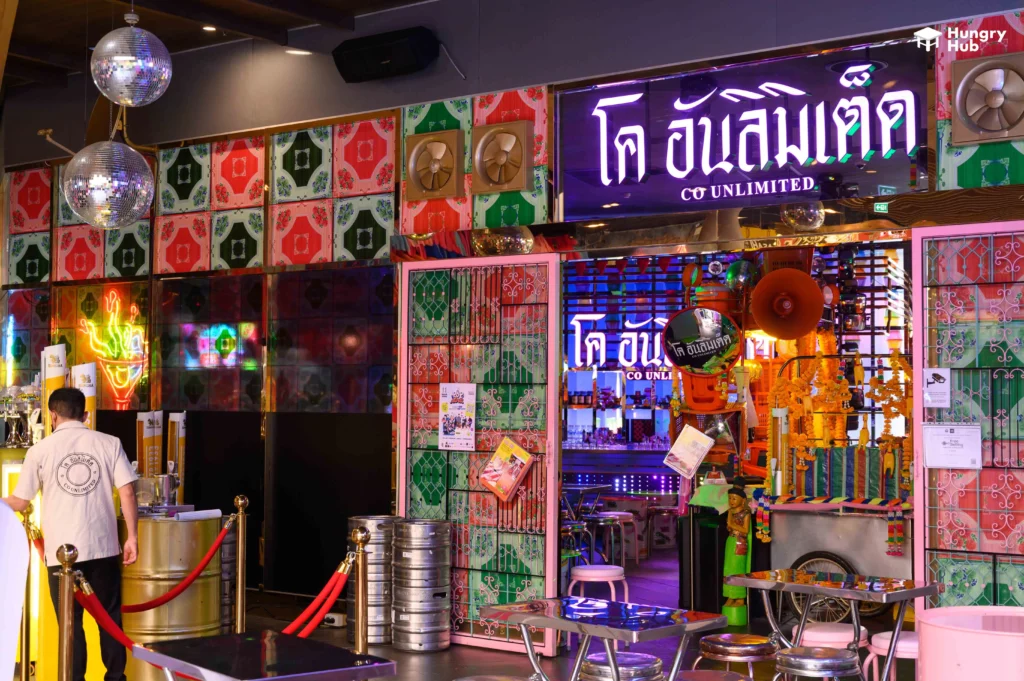 The choice of music is incredible, including Korean-R&B, Western Pop, and R&B. The interior is also decorated in a detailed Thai style. For example, the electrical lines on the poles, and the DJ booth is a local street cart decorated with Phuang Malai (Thai flower garlands) of marigold roses. Furthermore, the restaurant has a photobooth at the entrance, thus allowing you to take pictures for memories!
Co Unlimited also used neon LED lights as decorations, hence making it very Instagram-Worthy! The staff are very friendly and attentive, providing us with the best dining service.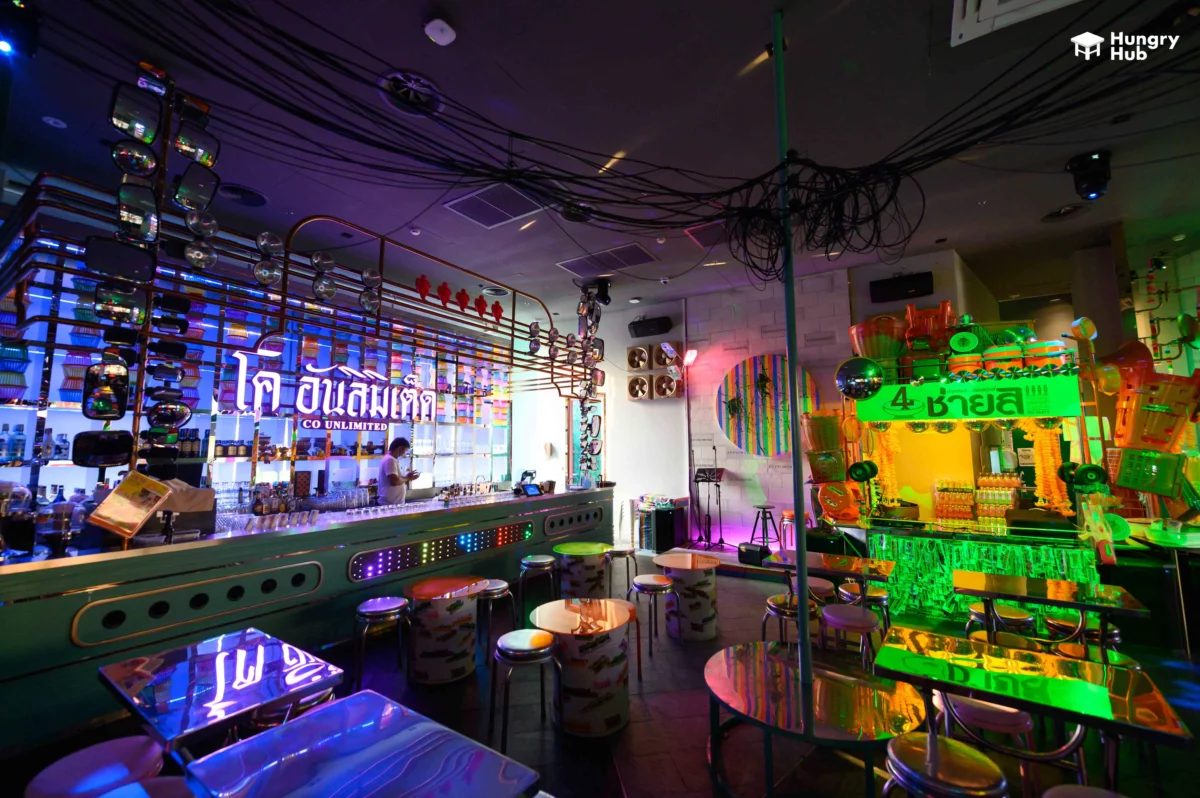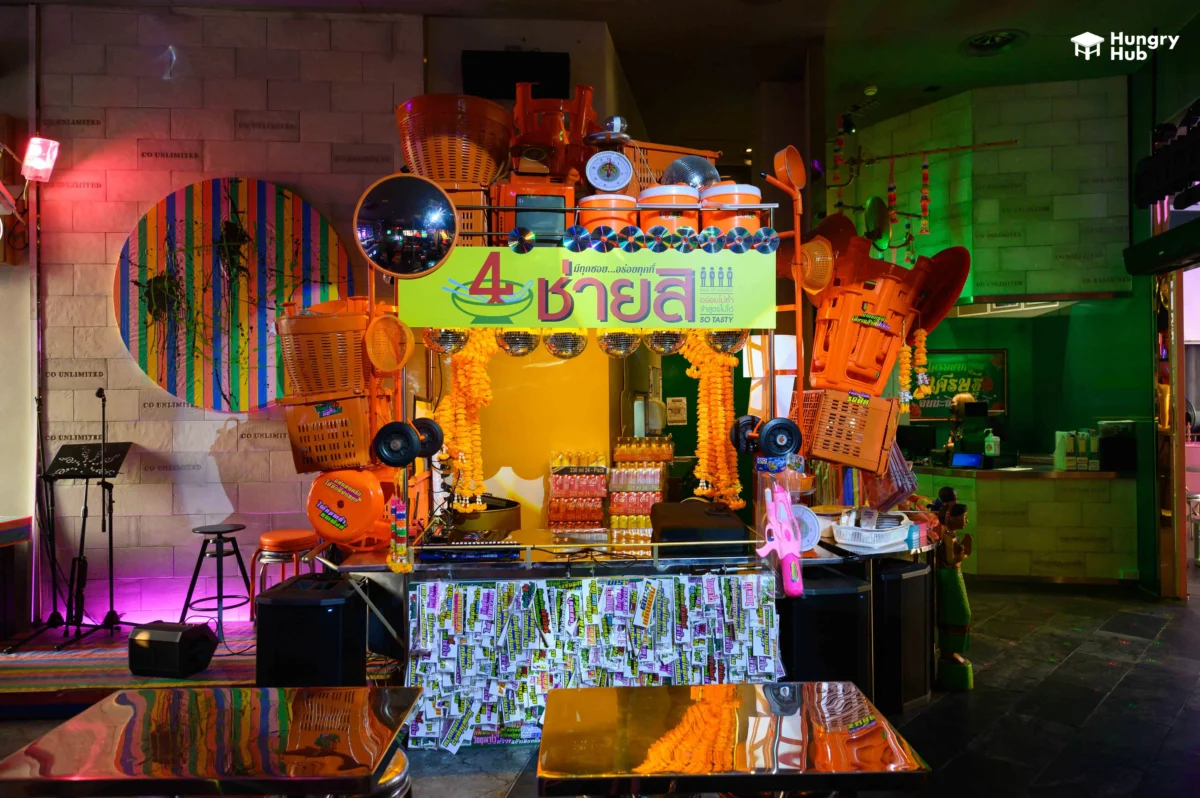 The cocktails are served with a top-notch presentation, thus do remember to snap some pictures before drinking!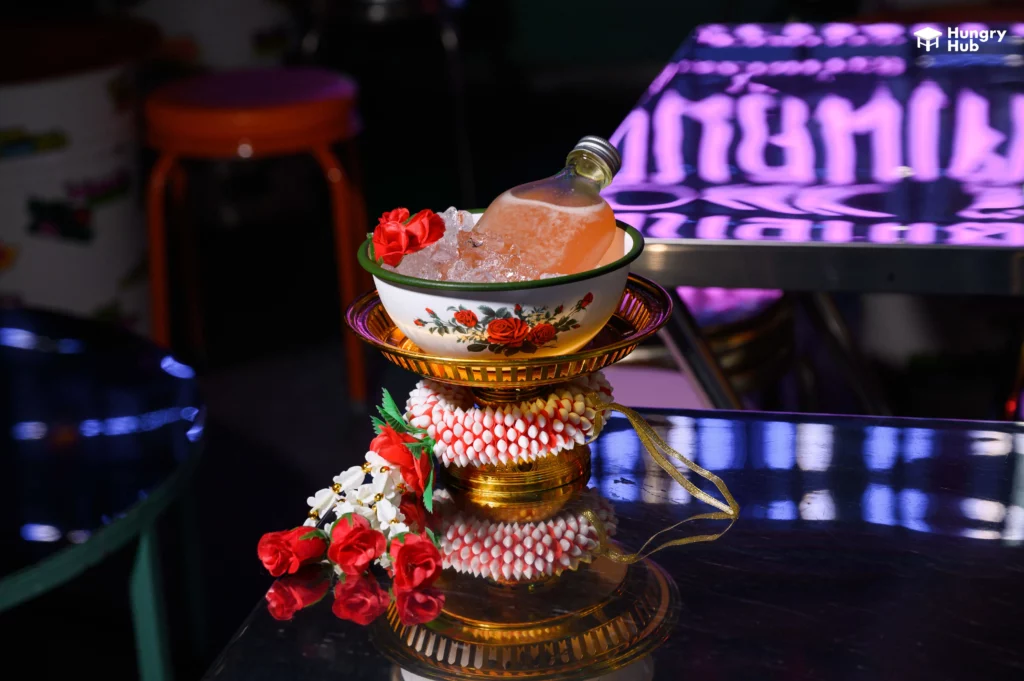 My personal favourite was the Love Or What?. It came in a bottle nestled inside an ice bowl with a flower garland as decoration. The drink is made of Aperol, Broker Gin Rose Infusion, and lime juice. The alcohol is not too strong with a sweet aftertaste. Thus, I would suggest this to people who have a lower alcohol tolerance!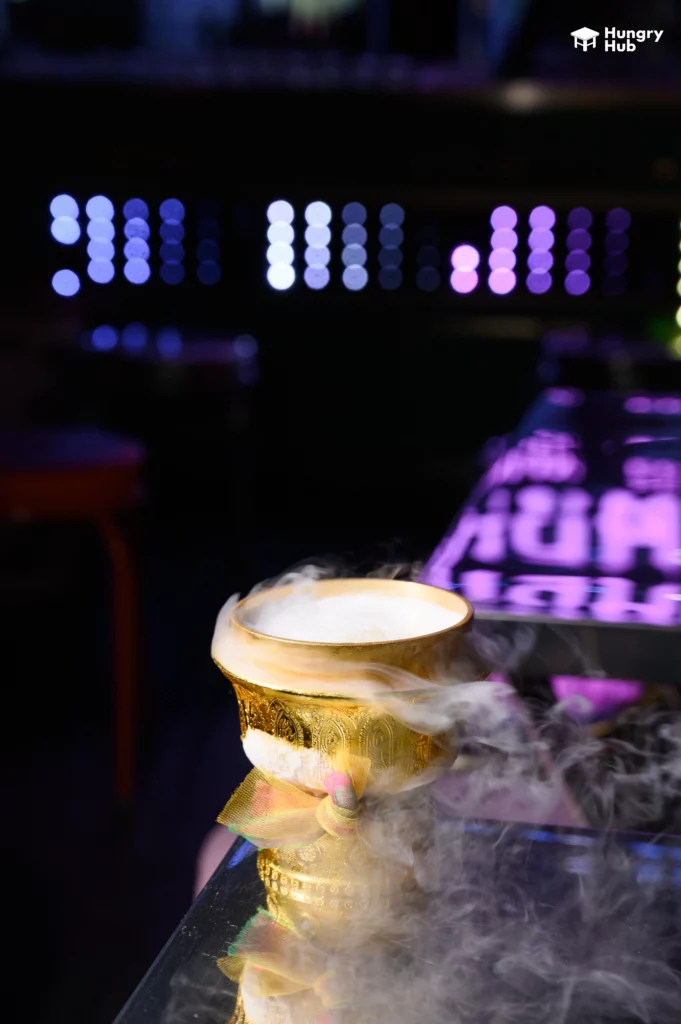 The Prince Charming caught my attention because of the presentation. There was dry ice in the cup, thus fog was produced. We took many pictures of the drink as the presentation was incredible! Compared to the first drink, the alcohol is significantly stronger with a hint of lime taste. It was very refreshing, and it would be a great drink paired with the dishes to wash off the lingering taste in your mouth.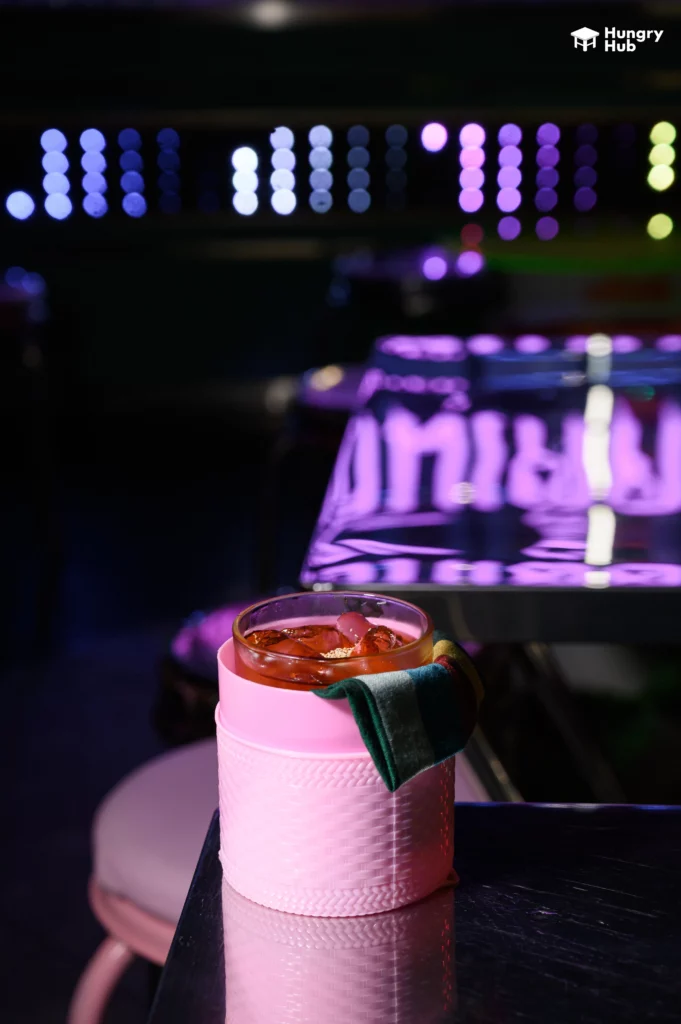 Lastly, the Orange Is a New Rich had a strong coconut taste, thus this would be great for coconut lovers! The drink was slightly sweet and the alcohol taste was not too distinct as the coconut juice overpowers it. Orange Is a New Rich was presented in a plastic cup with a handkerchief on the side for decoration.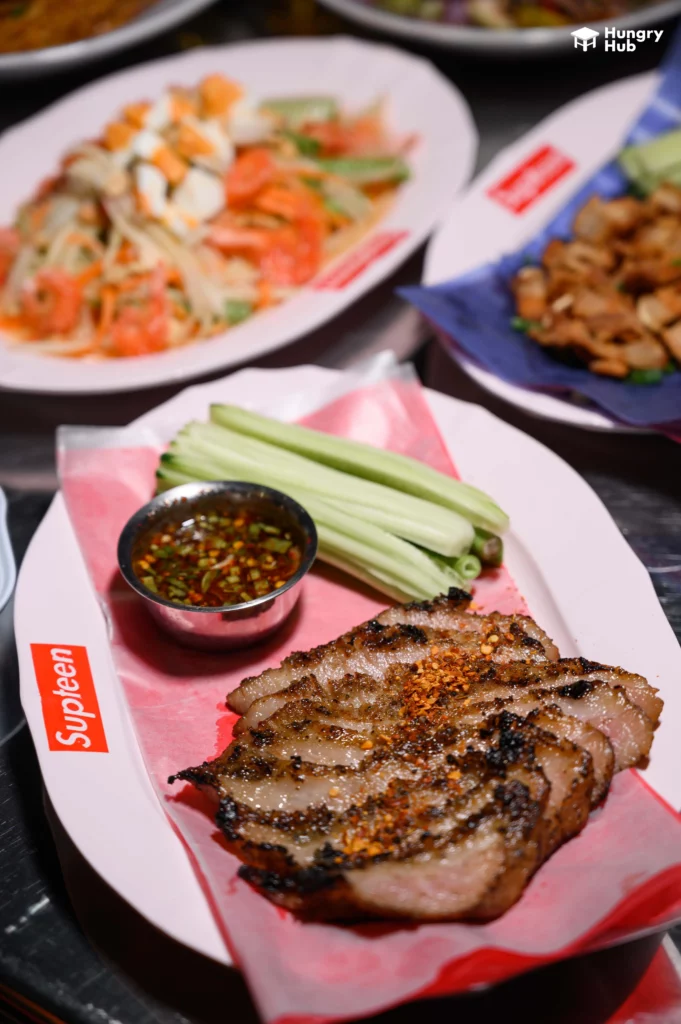 Starting off with my favourite dish, the Grilled Pork Neck. The dish was served with cucumber slices and a sour sauce that went perfectly well with the meat. The thinly sliced pork pieces were very tender and juicy, making me crave for seconds. I would certainly recommend this dish to meat-lovers!
2. Grilled Scallop with Garlic Butter Sauce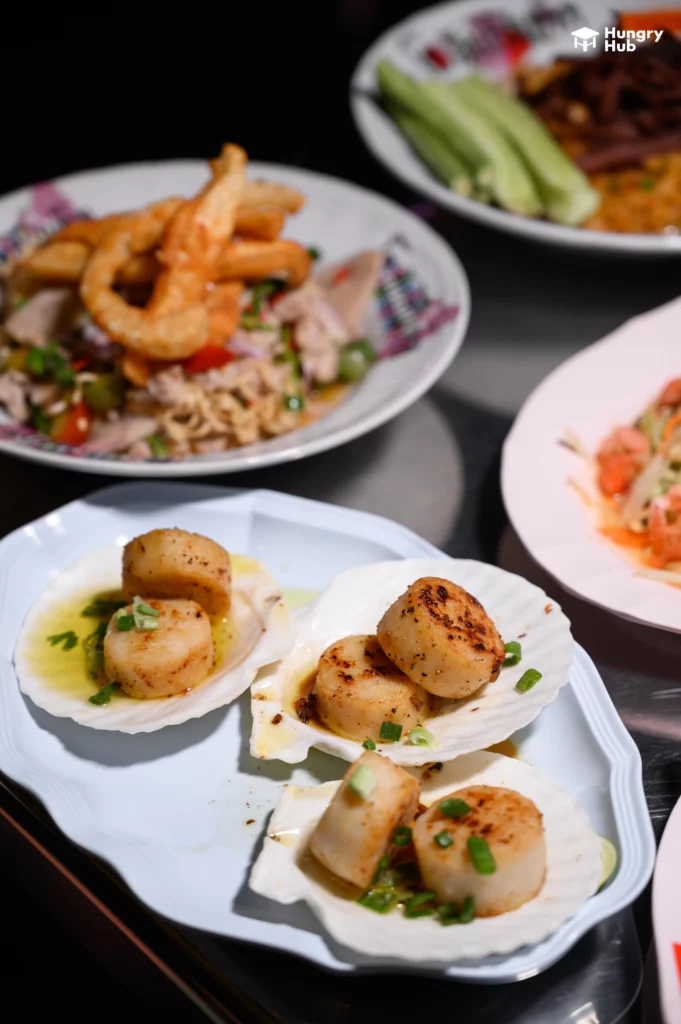 Next, the Grilled Scallop with Garlic Butter Sauce. The scallops, garnished with scallions, were arranged neatly on a pearly white scallop shell. The scallop meat was soft and juicy with a buttery aftertaste.
3. Som Tum with Salted Egg
The Som Tum with Salted Egg is a good crunchy appetizer to kickstart your meal. The brightly coloured dish had a burst of flavour – sweet, sour and salty. It is also a good palate cleanser when the other dishes start to seem overwhelming.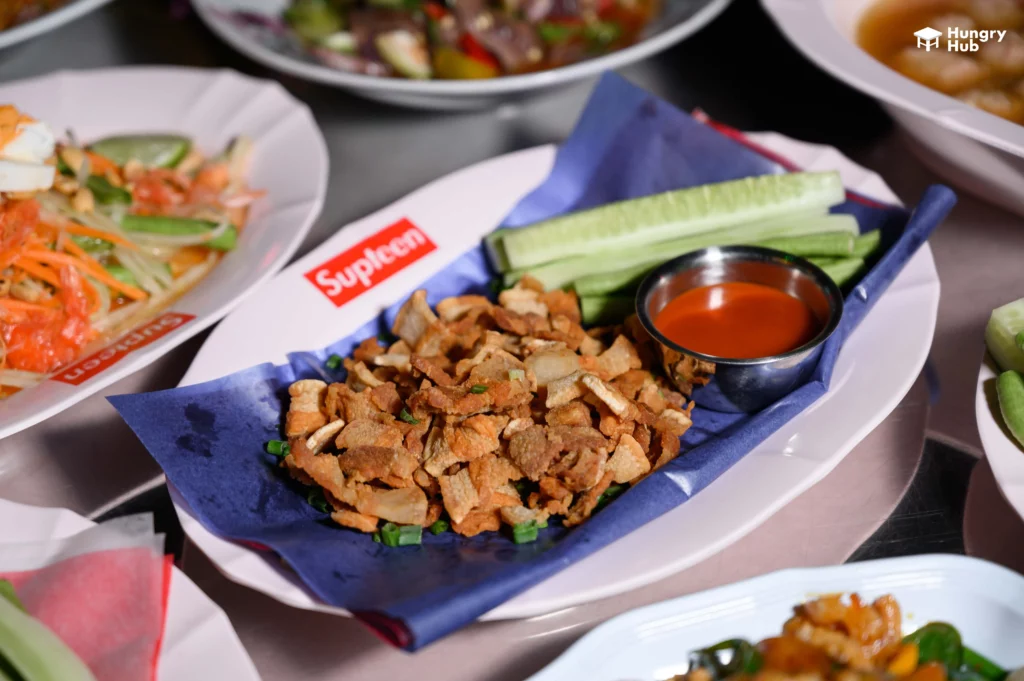 The Crispy Pork Crackling was presented with cucumber slices and a sweet sauce. To my surprise, the dish was not too oily or too salty. It was extremely crispy; thus, it could be paired with other dishes or consumed on its own!
The Instant Noodles Salad is my favourite noodle dish because of the tart taste. Additionally, the fish was not only crispy on the outside but soft on the inside. It was fried with many delectable ingredients such as onion, red pepper and many more, making it extremely fragrant.
6. Favourite Deep-Fried Items: Fish Ball, Wonton, Sausage, Vietnamese Sausage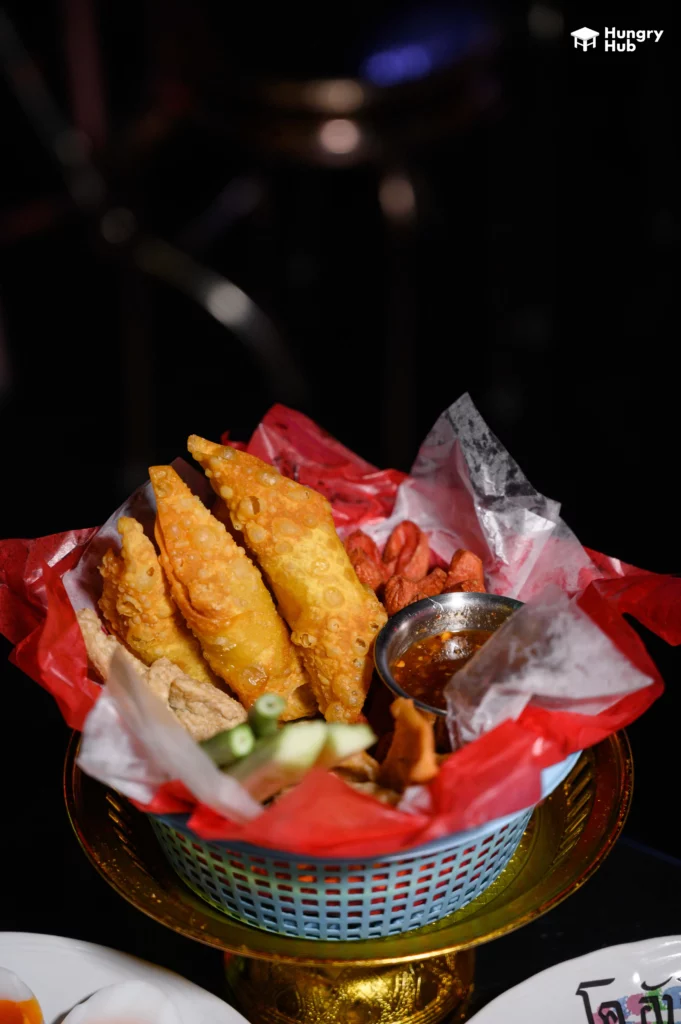 The Favourite Deep-Fried Items is a perfect starter dish that includes fish balls, Vietnamese sausages wrapped in Wonton skin, fish cakes and many more. The sweet and spicy sauce that came with the dish was my absolute favourite. The sauce bowl was completely clean by the end of the meal!
This is a good choice if you would like some small bites to go with the cocktails.
7. Co Unlimited Stir-Fried Noodle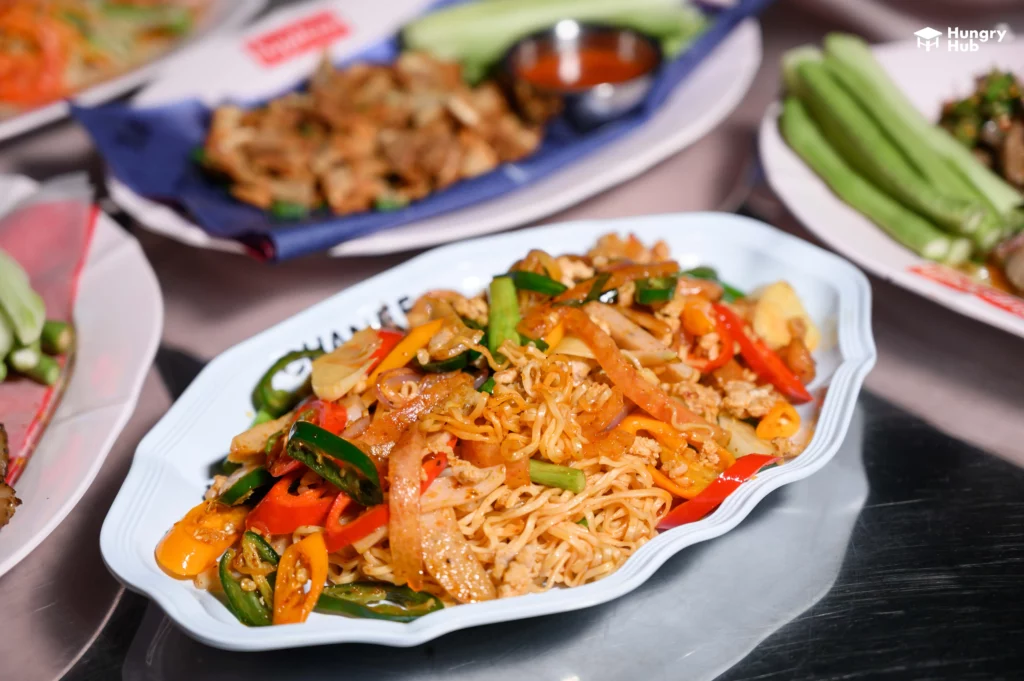 The Co Unlimited Stir-Fried Noodle was extremely eye-catching due to the vibrant colours in the dish. The noodles were fried with green, red, and yellow peppers, hence the bringing out the juiciness of the noodles. The noodles were not too oily or salty, hence it would be suitable for everyone.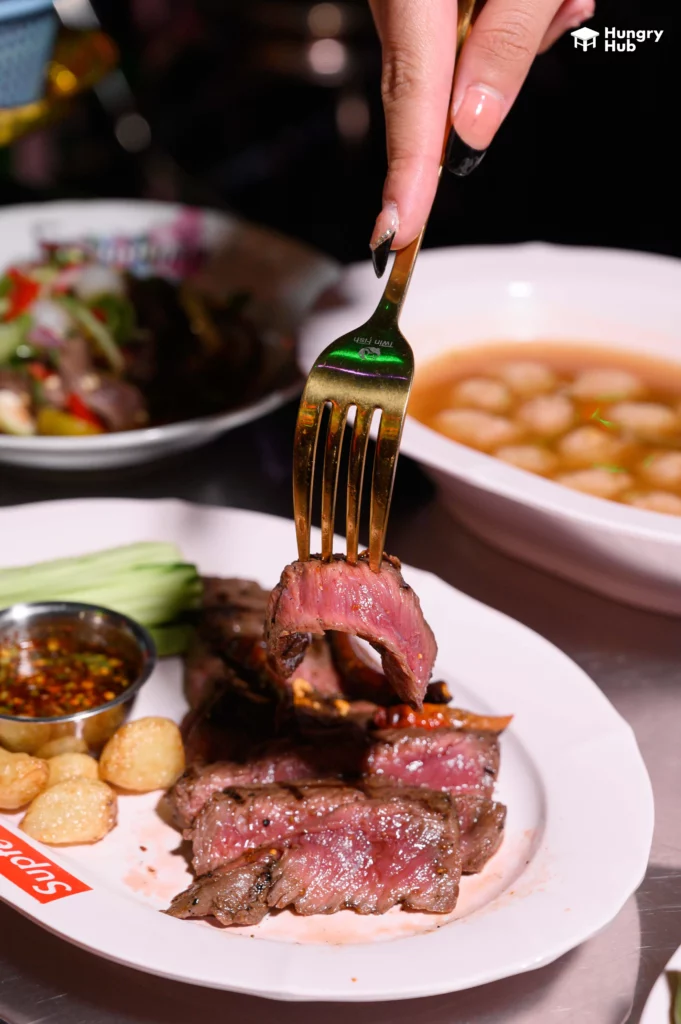 For beef lovers, it is suggested to try the Grilled Beef Brisket. The aromatic meal was served with cucumbers and a savoury sauce. The meat was cooked to a juicy medium rare texture; thus, the soft meat was easy to bite into.
The Fried Rice with Chili Paste and Sundried Beef served with Soft Boiled Egg is another great option too. The fragrant rice has a soft-boiled egg with runny egg yolk that paired excellently with the crispy beef pieces.
9. Super Spicy Pork Patty Soup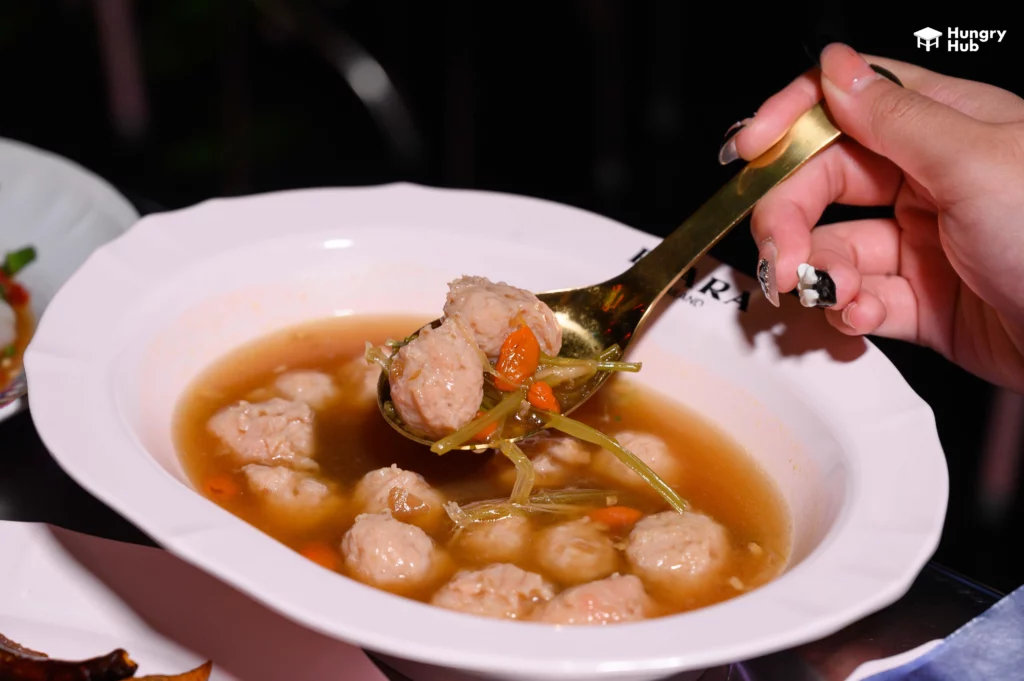 Lastly, the Super Spicy Pork Patty Soup was extremely mouthwatering. There were many meatballs inside the smooth, light soup. Personally, I did not expect much from the soup, however, it was very tasty and full of flavour!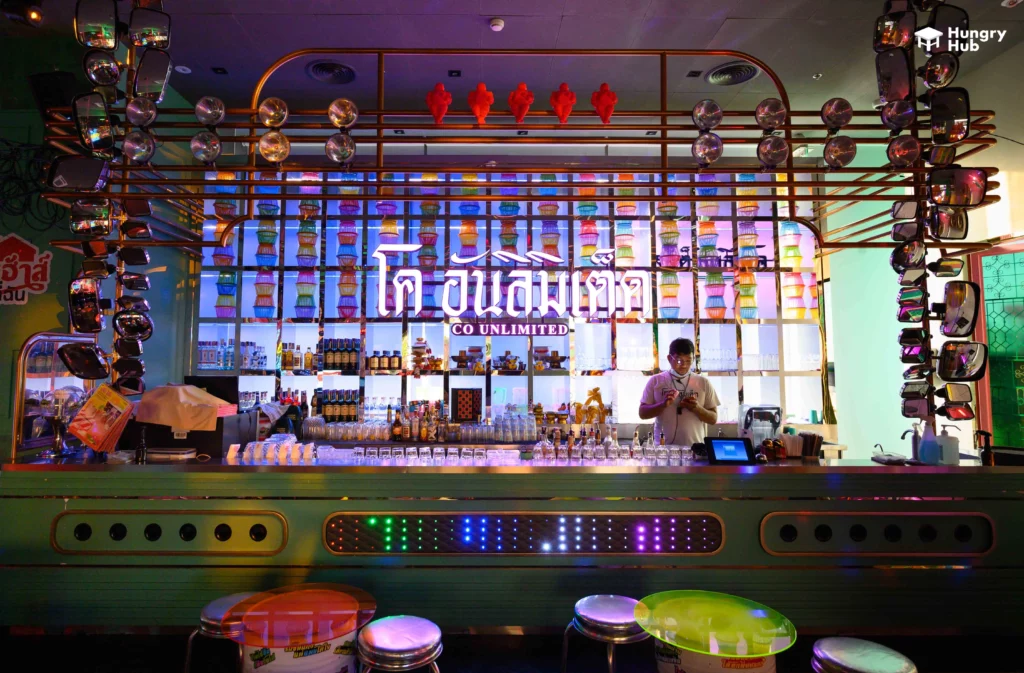 Location: 2nd Floor Groove at Central Wold Rama I Rd, ปทุมวัน Khet Pathum Wan, Krung Thep Maha Nakhon 10330
Operating Hours: Mon – Sun, 5:00 P.M. – 11:45 P.M.
Recommended Package:

Sharing Set for 2 Persons (Mon-Sun)

(Set menu of 5 dishes such as Grilled Scallop with Garlic Butter Sauce and other menus with Drink) Book now via Hungry Hub at the NET price per pack of only 1,390 Baht!
To conclude, Co Unlimited is the perfect bar to visit with your friends as recommended by Hungry Hub. Apart from the relaxing ambience, it is also situated in a convenient location. What are you waiting for? Book now via Hungry Hub to enjoy packages at attractive prices!