The floating market, surrounded by authentic Thai houses of nearby villagers, is one of the charms of Thai style that people from all over the world want to experience for themselves. The floating market has an unrivaled magical atmosphere. Today, Hungry Hub has compiled a list of 8 floating markets in Bangkok and the neighboring towns for you to visit during your amazing vacation. All of the floating markets that we've put together are guaranteed to be stunning spots filled with one-of-a-kind food and souvenirs that are worth a visit!
8 of the Most Magical Floating Markets in Bangkok & Neighboring Regions
1. Amphawa Floating Market
What better place than "Amphawa Floating Market" to be at the top of the list of the best floating markets? This legendary floating market is recognized for the serene and stunning atmosphere created by authentic local waterfront houses. With its simple and relaxed ambiance, this place is a must-see if you plan on visiting the floating market. Because of the skill of the villagers who row their boats to sell, you will be able to sample genuine Thai cuisine.
In addition to experiencing Thai people's traditional way of life in earlier times, you can also expect gorgeous Thai souvenirs! The vibe in Amphawa after sunset is a magical moment that you should not miss. Despite its distance from Bangkok, Amphawa is not difficult to reach, and most importantly, it is well worth the trip!
Hour: Thur. – Sun. from 10 am – 9:30 pm
Location: Amphawa Floating Market, Amphawa District, Samut Songkhram 75110
Tel:

083-433-5613
2. Damnoen Saduak Floating Market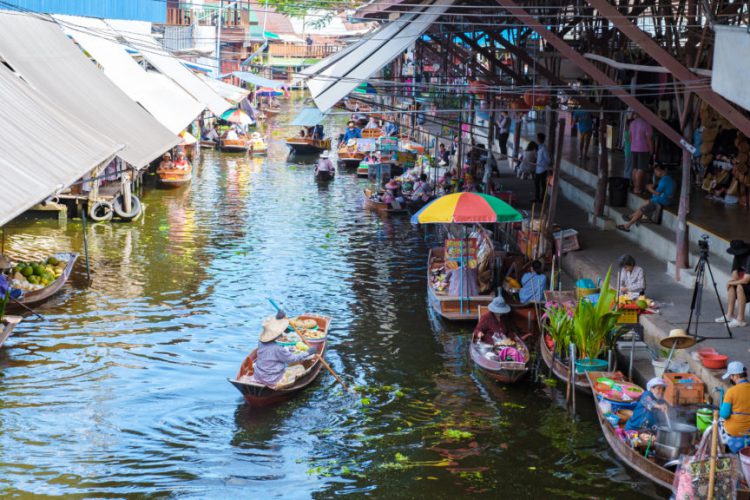 The second place we will go is Damnoen Saduak Floating Market, which is a 100-year-old market in Ratchaburi Province. This bustling market is full of life and an authentic Thai way of life, which has made it famous and draws both Thai and foreign tourists. This market is open every day, so no matter when you visit Thailand, you will be able to experience the distinctive vibe of this floating market.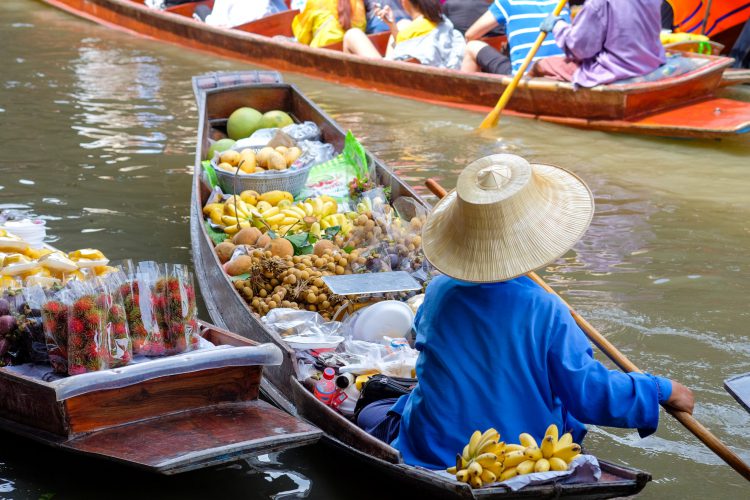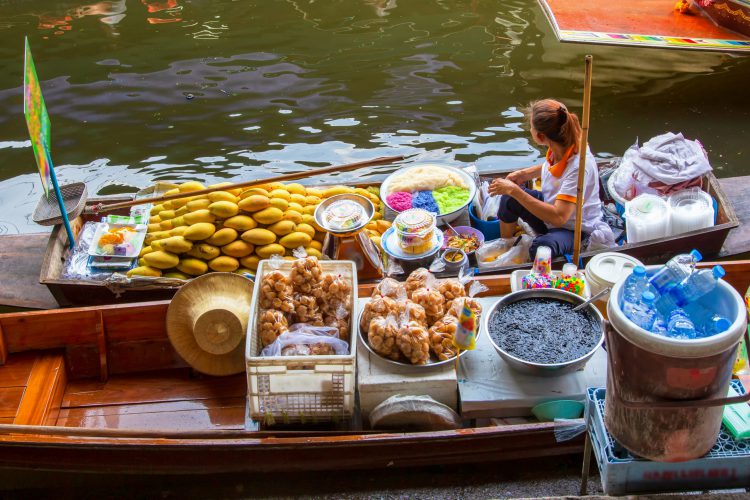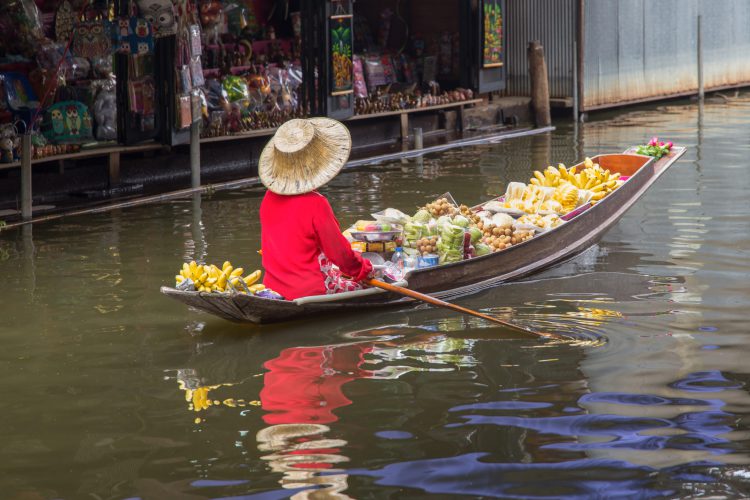 The Damnoen Saduak's most striking feature is the crowded rows of vendors rowing boats to sell their wares. Thai desserts, authentic Thai food, and one-of-a-kind souvenirs will undoubtedly impress you at this amazing location!
Hour: 8 am – 4 pm
Location: Damnoen Saduak, Damnoen Saduak District, Ratchaburi 70130
Tel:

085-222-7470
3. Pattaya Floating Market
Pattaya Floating Market is a market that is always bustling due to the constant flow of tourists due to the market's excellent management. This market has a corner for tourists to sit and relax, as well as many beautiful photo spots, in addition to shopping and food. The market's highlight is cultural performances that educate about Thailand's four regions: North, Central, Isan, and South. Furthermore, the market is clean and clearly separated into sales zones. There is also a boating service available for tourists to admire the market's beauty!
Hour: 9 am – 7 pm
Location: 451 304 Moo 12 Sukhumvit Road, Muang Pattaya, Bang Lamung District, Chon Buri 20150
Tel:

088-444-7777
4. Khlong Lat Mayom Floating Market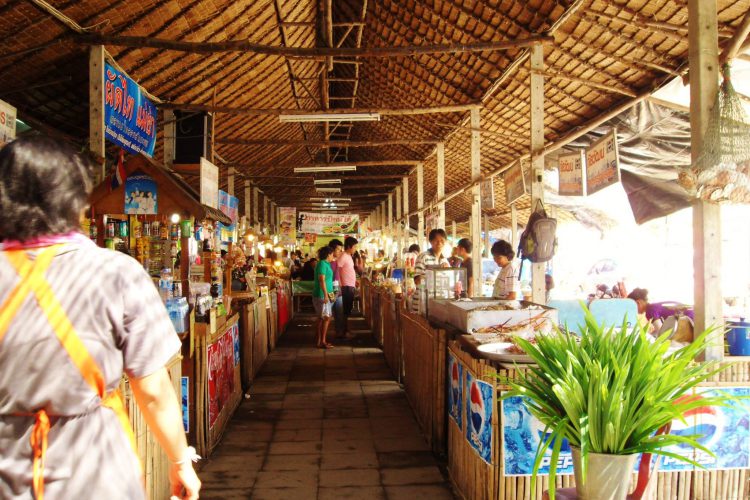 Floating markets aren't limited to neighboring provinces! The Khlong Lat Mayom Floating Market is a small floating market in Bangkok that people never get tired of visiting. It has a simple atmosphere that is conducive to relaxation. Many villagers sell their goods in the market. You must visit this market if you want to understand what a "land of smiles" is!
In addition to the market zone, you can see nature by taking a boat ride. The boat will cruise along a small canal lined with authentic Thai houses. In a small gathering in the vast capital, you will experience local life, see lotus ponds, and breathe in fresh air! We can assure you that it will be a special day unlike any other!
Hour: Sat. and Sun. 8 am – 5 pm
Location: 30/1 Moo 15 Bang Ramat Rd, Bang Ramat, Taling Chan, Bangkok 10170
Tel: 02-422-4270
5. Kwan-Riam Floating Market
Kwan-Riam Floating Market, a small market along Saen Saeb Canal hidden in the Ramkhamhaeng community, sells a variety of items, including food, utensils, clothes, accessories, and souvenirs. This one of the best floating markets in Bangkok has a wide range of products for sale. The atmosphere of the market is quiet and peaceful, and it is not crowded, making it ideal for your relaxing day!
Hour: Sat. and Sun. 7 am – 5 pm
Location: 45 Ramkhamhaeng 185 Alley, Min Buri, Bangkok 10510
Tel: 081-357-1545
6. Bang Nam Phueng Floating Market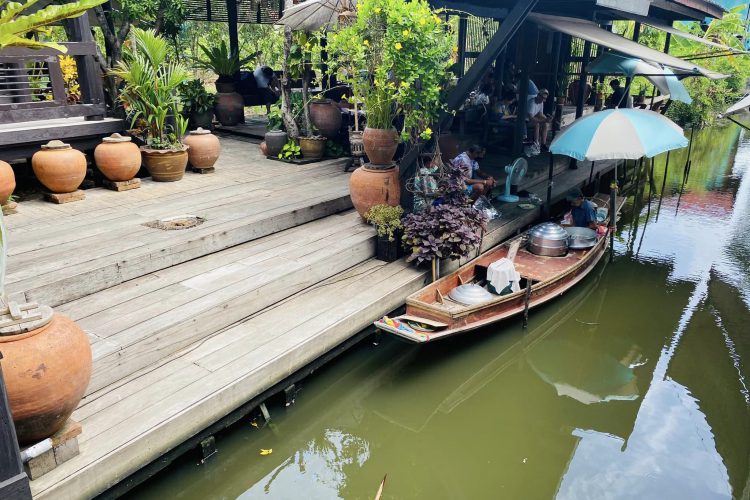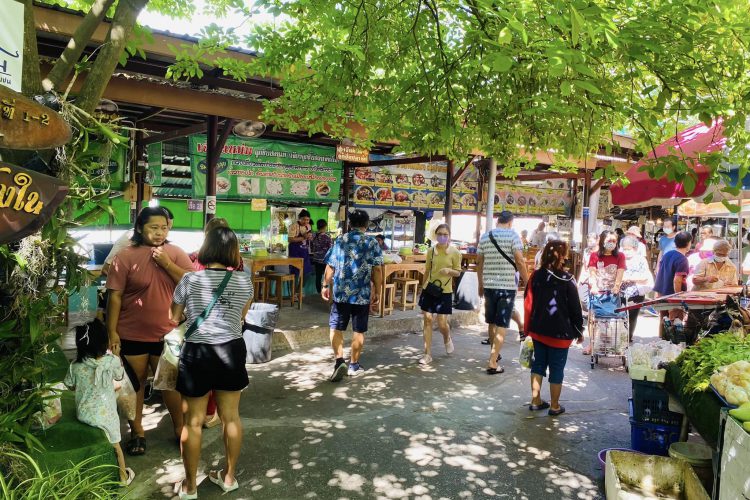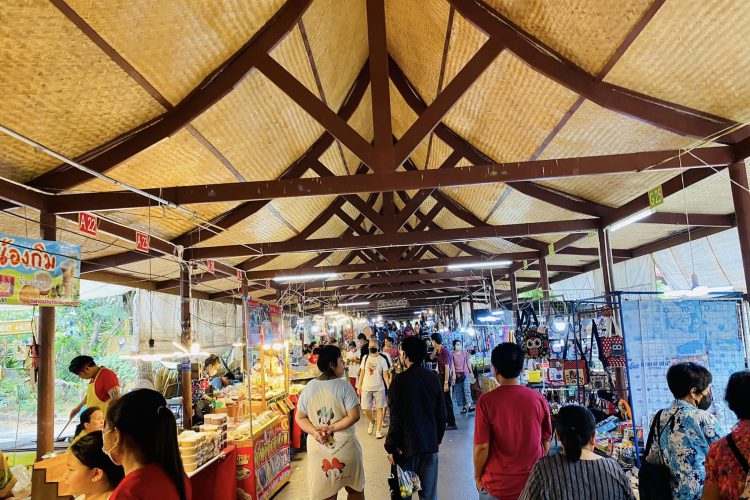 We've visited many floating markets in Bangkok, and this time we're taking you to the Bang Nam Phueng Floating Market. This market, located in Samut Prakan, promotes and supports the generation of income for the local villagers. Villagers have brought a variety of items into the community to sell, including vegetables, fruits, food, utensils, OTOP products, trees, and flowers.
The market has a lively and friendly atmosphere. The marketplace is clean, and there are rest stops along the way. You can enter the community area by walking. This market is another floating market worth visiting during your vacation!
Hour: Sat. and Sun. 8 am – 4 pm
Location:

98 Bang Nam Phueng, Phra Pradaeng District, Samut Prakan 10130

Tel: 02-461-3254
7. Taling Chan Floating Market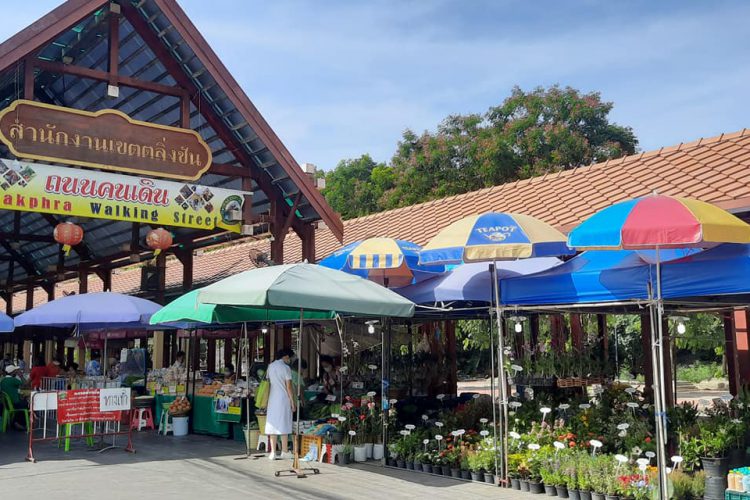 The Taling Chan Floating Market is an excellent place for a meal. Despite the fact that the market is in Bangkok, this area retains a lot of nature, making the atmosphere appear shady and cool. A boat service is available to transport customers into the market. However, anyone who wants to walk and enjoy nature can do so.
The food is varied and fresh. The market has many well-known shops, such as noodles sold on boats, delicious papaya salad, fresh seafood, and villagers who bring home-grown vegetables to sell at affordable rates. You're certain to have delicious food and a souvenir to take home!
Hour: Sat. and Sun. 8 am – 5 pm
Location: 333 Chak Phra Rd, Khlong Chak Phra, Taling Chan, Bangkok 10170
Tel: 087-694-3219
8. Ayothaya Floating Market
Ayothaya Floating Market is a large shopping area in Phra Nakhon Si Ayutthaya Province with a Thai retro style. This market, which covers an area of more than 80 rai, attracts both Thai and foreign visitors. The architecture, costumes, folk games, and way of life of past villagers are displayed.
There are also over 250 shops and boats that sell merchandise. This is a market with a wide variety of foods and supplies. If you get tired of walking, you can take a boat ride around the market to see the sights and feel the cool breeze, or you can sit and rest at various points set up by the market. This market near Bangkok is an essential stop for anyone visiting Thailand!
Hour: 9 am – 6 pm
Location: 65/19 Phai Ling, Phra Nakhon Si Ayutthaya District, Phra Nakhon Si Ayutthaya 13000
Website: Ayothaya Floating Market
These 8 floating markets in Bangkok and neighboring provinces are true hidden treasures that you must visit if you want to learn more about the authentic Thai villager way of life. Aside from the full cultural experience, you'll be able to enjoy delicious food, unique souvenirs, and a scenic boat ride. Please visit these floating markets during your trip to Thailand!