Trying to find some interesting things to do in Pattaya? Let Hungry Hub walk you through the list of 10 ways to spend your Pattaya trip to its finest! Pattaya is a center of all entertainment, ranging from the stunning beaches to the bustling city at night, and guarantees to be among the best places to visit on your Thailand trip.
10 Best Ways to Spend Quality Time in Pattaya
1. Start a Bright Day with Ramayana Water Park (Chonburi)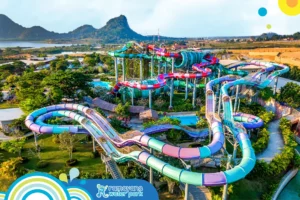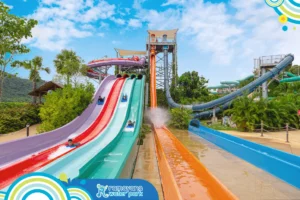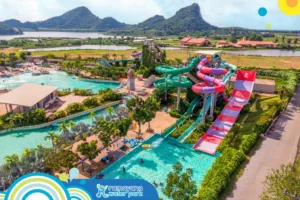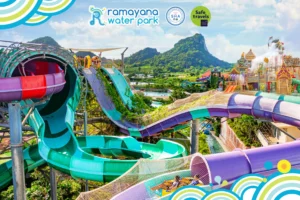 With 21 different rides with a water theme, the Ramayana Water Park provides an exciting day out for visitors of all ages. A riot of colorful, serpentine slides surrounds the park, including a heart-stopping freefall and more family-friendly ones.
The double wave pool, a kids' Aquasplash park with fountains, and even a green maze are among the other activities available here. The relaxing river cruise passes by gushing geysers and mysterious caves. Volleyball, Zumba, water polo, and fish feeding are just a few of the daily activities that add to the fun.
Hour: 11:00 am. – 6:00 pm.
Location: 9 Moo 7 Ban Yen Road, Na Jomtien Subdistrict, Sattahip District, Chonburi 20250
2. Have a Chill Meal at DAM (Pattaya)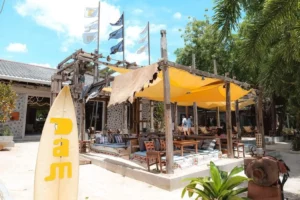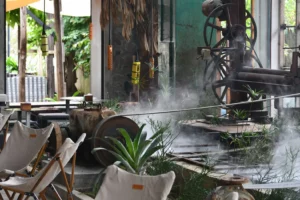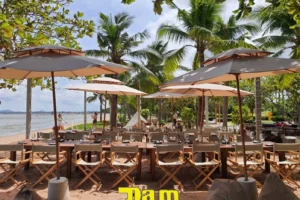 DAM, a cafe based on the post-apocalyptic world after the collapse of human civilization, is an exotic cafe that every traveler to Pattaya should visit! The shop is decorated to resemble an abandoned warehouse, with furniture and decorations that contribute to the atmosphere of desolation, as if no human had lived there for a long time until it was swallowed up by nature over time.
The outdoor zone by the shop still maintains the concept of camping in a simple wooden shed during the day when the world is without technology. The restaurant serves fresh seafood and fusion dishes such as pizza, baked mussels with cheese, grilled shrimp papaya salad, and a variety of beverages that are sure to please people of all ages.
Hour: 11:00 am. – 11:00 pm.
Location: 19 10 Moo 1, Muang Pattaya, Bang Lamung District, Chon Buri 20150
Recommended Package:

Sharing Set for 2 Persons

(set of 4 dishes such as pizza trio (homemade) and more menus with 1 drink per person) Book through us now to get the NET price of only 990 baht.
3. Sip a Little Drink at Silverlake Wine & Grill (Pattaya)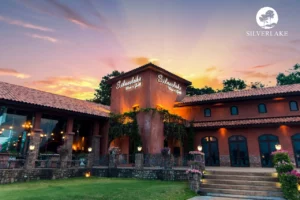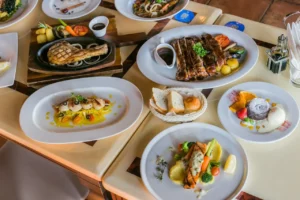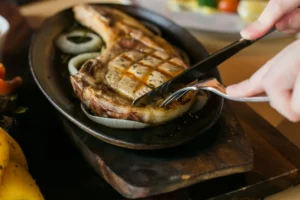 Silverlake Wine & Grill, an Italian restaurant decorated in a traditional Italian home style, is a long-standing restaurant with a strong focus on wine.
The shop is ready to serve a wide range of wines in a luxurious restaurant with a classic style, but with a local grape-free touch and a romantic European-style garden.
In addition to drinks, the restaurant serves delectable Italian cuisine, with soft music playing throughout the meal to enhance the experience.
Hour: 11:00 am. – 9:15 pm.
Location: 2, 2 Na Jomtien, Sattahip District, Chonburi 20250
Recommended Package:

New: Standard Set For 2 Persons

(

choose from 4 dishes such as Marinated Italian Beef Carpaccio, Extra Virgin Olive Oil, Grilled Tasmanian Salmon with Cream of White Wine and anot

her menu with 1 drink per person

) Book through us now to get the NET price of only 1,190 baht.
4. Relax in the Afternoon at Alexa Beach Club (Pattaya)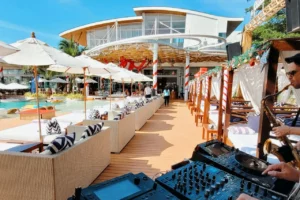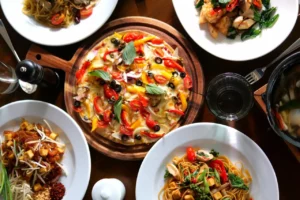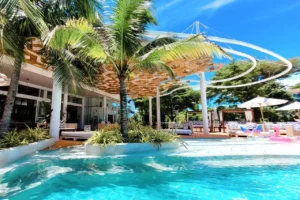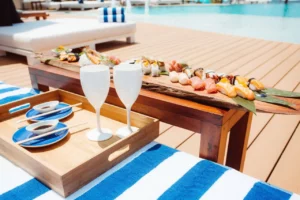 Alexa Beach Club is a great place to get away from it all and relax by the pool. The highlight here is to enjoy the most beautiful sunsets while listening to Balearic-style music. With a beachfront area, this is an ideal place for those who love the sun and sea breeze.
There are single and double sunbeds available, as well as a large swimming pool measuring over 600 sq. m., surrounded by 3 DJ booths and 4 beverage bars. A pool party can accommodate up to 1,500 guests!
In terms of food, a variety of food styles, including Thai, Japanese, and European dishes, are all created by chef Dan Stella, a Michelin-starred senior chef from the Le Cordon Bleu Institute, and are guaranteed to please both foodies and party lovers.
Hour: 12:00 noon – 10:15 pm.
Location: 8, 5, 11 Soi Na Jomtien 8, Na Chom Thian, Sattahip, Chon Buri 20250
Recommended Package:

Choose 2 Dishes w/1 Alcohol Drink

(

sharing set 2 courses can choose menu such as Calamari, Stir Fried Shrimp Garlic, Pineapple Boat Fried Rice and other menus with 1 drink per pers

on

) Book through us now to get the NET price of only 850 baht.
5. Dine in at Reva Beach Restaurant at Ravindra Beach Resort & Spa (Pattaya)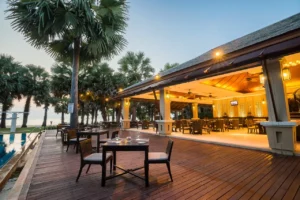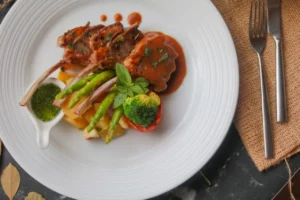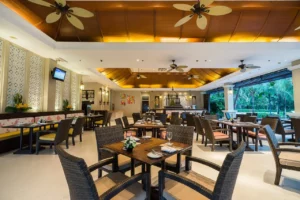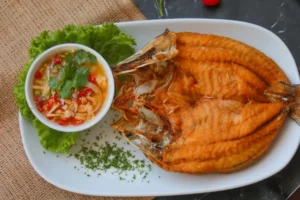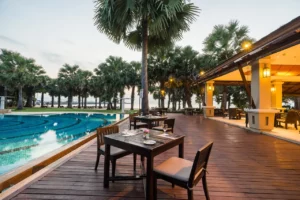 Reva Beach Restaurant, a romantic, peaceful, private beachfront restaurant, is ideal for those who want to unwind, let time pass, and soak in the atmosphere.
The restaurant is located in the Ravindra Beach Resort and Spa in Najomtien and features an outdoor restaurant where guests can enjoy the cool breeze of the sea while dining on delicious Thai and international cuisine.
Hour: 11:00 am. – 9:00 pm.
Location: Ravindra Beach Resort & Spa, 4 Sukhumvit Rd, Na Chom Thian, Sattahip, Chon Buri 20250
Recommended Package:

Sharing Set for 2 Persons

(set menu of 4 dishes such as Grilled Fillet Salmon and more menus with 1 drink per person) Book through us now to get the NET price of only 1,090 baht.
6. Sip & Dine at Virgin Rooftop (Pattaya)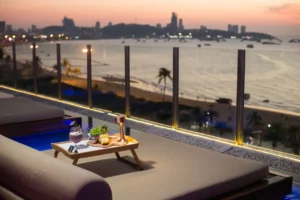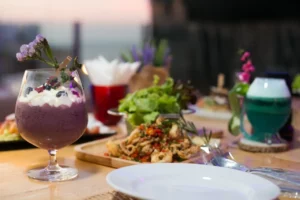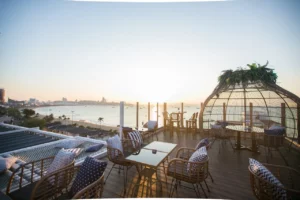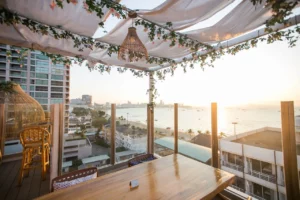 Virgin Rooftop, a newly opened secret bar in the heart of Pattaya, is a bar located on the 8th floor of the Pattaya Seaview Hotel where visitors can enjoy panoramic views of the sea from the rooftop. The bar chooses furniture that appears modern but has a hidden luxury in the dark wood that contrasts with other light-colored elements.
Delicious foods and beverages are created by Chef Oak, of Top Chef Thailand, who is also the restaurant's executive chef, ensuring that each menu that is served is delicious for the guests. Anyone looking for a relaxing place to stay in Pattaya should consider this option. Hungry Hub guarantees that you will be impressed by the pleasant atmosphere and delectable cuisine!
Hour: 4:00 pm. – 11:15 pm.
Location: Virgin Rooftop Pattaya 15/8 Soi 4, North Pattaya Road, Pattaya City, Bang Lamung, Chon Buri 20150
Recommended Package:

New: Choose 4 Dishes with 2 Mocktails

Book through us now to get the NET price of only 2,500 baht.
7. Enjoy a Futuristic Vibe at The Sky 32 at Grande CentrePoint Hotel (Pattaya)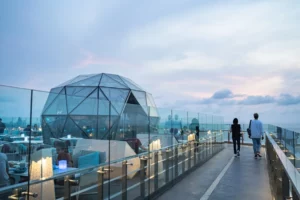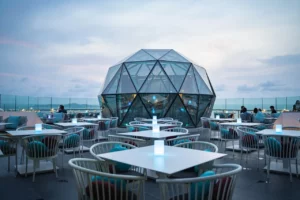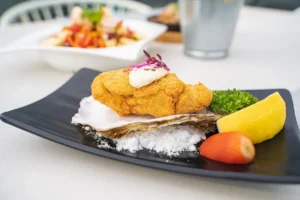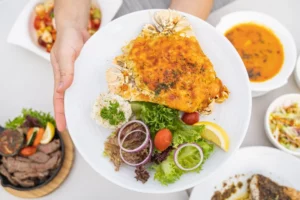 At "The Sky32," you will be awed by the breathtaking view and delighted by the delectable cuisine. It's like one of the priceless gems hidden 32 stories above Pattaya City, allowing you to be amazed by the 360-degree view surrounded by Pattaya Bay and the evening lights until Pattaya's night surrounds you.
The shop has both indoor and outdoor seating where you can unwind and gaze at the stars. Whether it's a dinner or a light meal, you can watch the spectacular sunset while sipping a drink, with the glittering lights of the city contrasting with the blue sea border—a very special sunset spot here.
Hour: 5:00 pm. – 11:00 pm.
Location: The Sky 32 at Grande CentrePoint, Na Kluea, Pattaya City, Bang Lamung District, Chon Buri 20150
Recommended Package:

Four Dishes w/ 1 Non-Alcoholic

(

choose 4 dishes such as Rock Lobster Thermidor, Grilled Salmon with Dill Cream Mustard Sauce, Thai Sour and Spicy Prawn Soup and more menus with

1 drink

) Book through us now to get the NET price of only 890 baht.
8. Visit the Sanctuary of Truth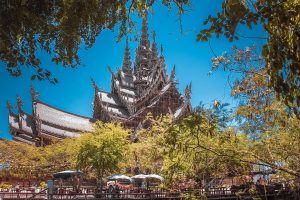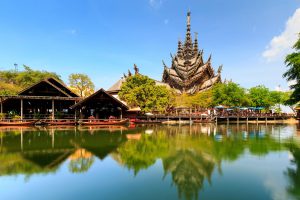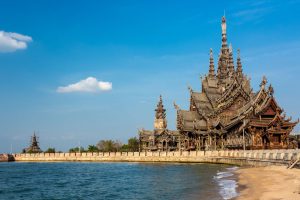 This massive monument, built entirely of wood and billed as "the magnificence of heaven recreated on Earth," is a study of Thai architectural styles. The entire structure was built to pay homage to ancient religions and philosophies, and every available space is intricately decorated with wooden carvings.
Some of the themes reflected in this artwork include the cycle of life, Utopia, and humanity's relationship with the universe. Visitors to the sanctuary can enjoy Thai cultural shows and Thai boxing, go elephant trekking or horseback riding or take a speedboat ride.
Hour: 8:40 am. – 5:00 pm.
Location: 206/2 Moo 5, Soi Naklua 12, Naklua, Banglamung
9. Around the World in 1 Day at Mini Siam!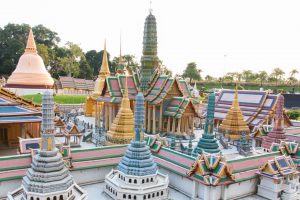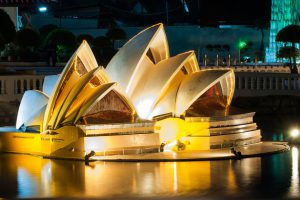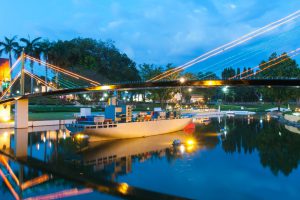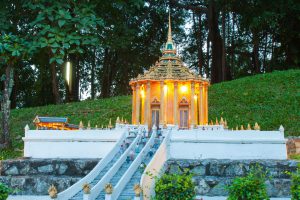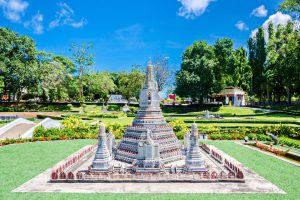 Mini Siam, a fun way to see Thailand's and the world's wonders, displays scale models of a variety of internationally famous international sites. Among those on display are Bangkok's Victory Monument and Wat Arun (also known as the Temple of the Dawn), New York's Statue of Liberty, London's Tower Bridge, Sydney Opera House, and Paris' L'Arc de Triomphe.
Children will enjoy seeing some of these well-known structures all in one place. Arrive in the late afternoon to catch the sunset, which is enhanced by warm lighting. Reservations must be made at least one day ahead of time. Visitors can participate in performances and other activities.
10. Shopping at Four Regions Floating Market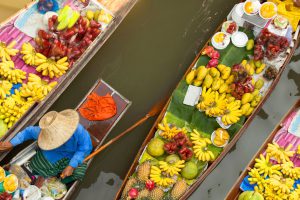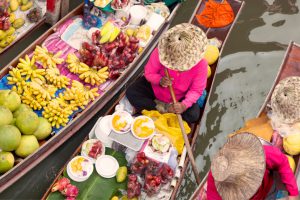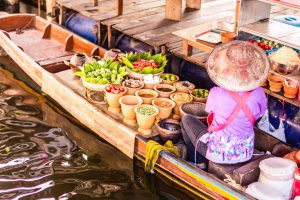 This hive of activity, Pattaya's first and only floating market, is divided into sections that sell merchandise from Thailand's four major regions. Among the many items sold here are souvenirs, arts and crafts, and clothing, and it's also a great place to try some exotic cuisine, such as scorpions, crickets, and crocodile meat.
Renting a boat is a great way to get around the markets. Admission is charged here, as opposed to more authentic floating markets. Your ticket, however, includes more than just a boat ride. Shows and activities such as sea boxing, traditional Thai dances, and even a zipline over the water are available here.
How was our list of the 10 best things to do in Pattaya? Do you have any splendid ideas for your trip from the list? Hungry Hub hopes you can plan a fun vacation and then have the best time of your life in this vibrant city!