Bangkok, Thailand's capital city, is known for its vibrant street food scene and diverse culinary offerings. Bangkok's bustling streets and vibrant markets are also home to some of the world's finest dining establishments. These upscale restaurants provide an unforgettable gastronomic experience with an impeccable blend of flavors, ambiance, and service. In this article, we'll look at the top 10 places for fine dining in Bangkok that are sure to impress even the most discerning foodies!
Experience an Exquisite Dining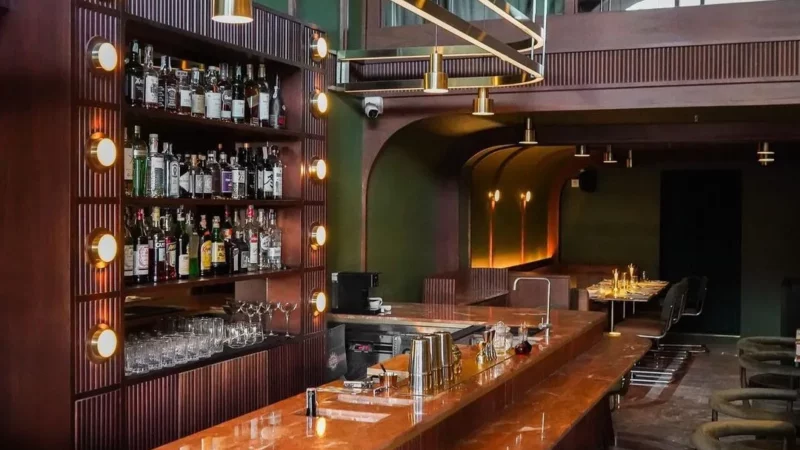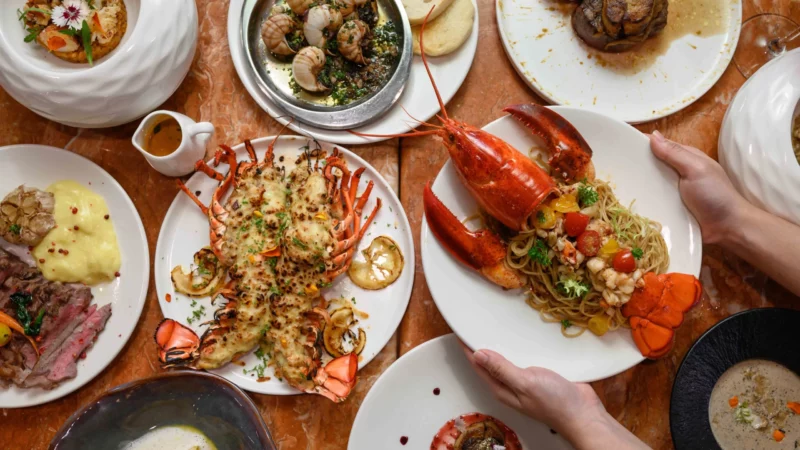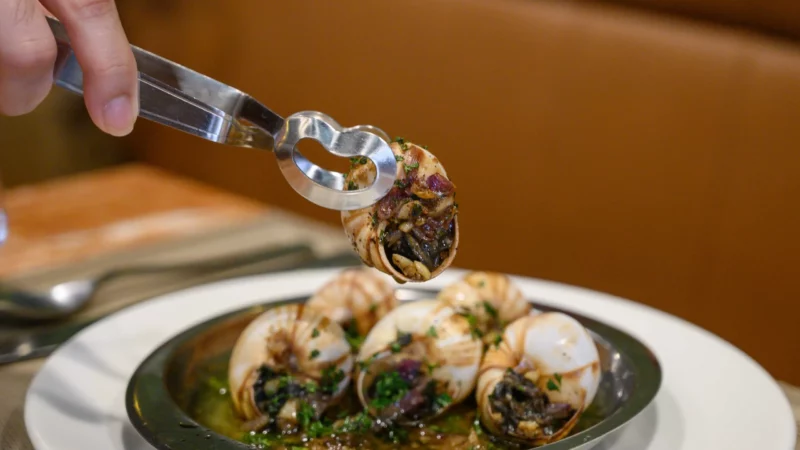 Let us begin with an exceptional restaurant and one of the best eateries for fine dining in Bangkok, Conti.bkk, a newly opened fine dining restaurant in Sathorn that invites all fine dining enthusiasts to experience the enchanting atmosphere in the dark green restaurant, which has latent warmth and complements the dark wood furniture. 'Conti' is an abbreviation for Continental, which means "Europe." The restaurant serves a variety of delectable dishes made from the finest ingredients from various countries to create a special menu in a unique style with new flavors and distinctive presentations, as if diners had traveled across Europe in only one meal!
Hour: Tue. – Thur. 5 pm – 10 pm / Fri. – Sun. 11 am – 10 pm (close on Mon.)
Location: 34/1 Soi Si Bamphen, Thung Maha Mek, Sathon, Bangkok 10120
Recommended Package: Sharing Set for 2 Persons (set of 4 dishes such as Lobster Thermidor and more menus with drink) Book through Hungry Hub now to get the NET price of only 3,390 baht.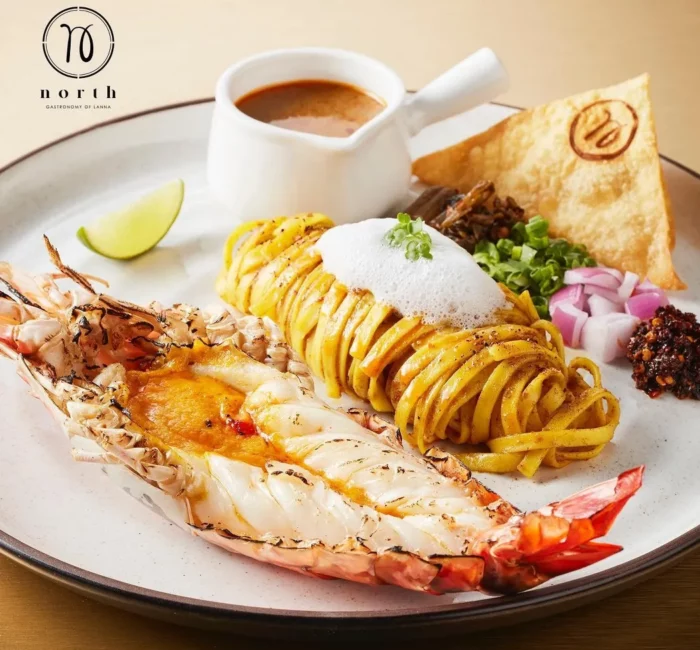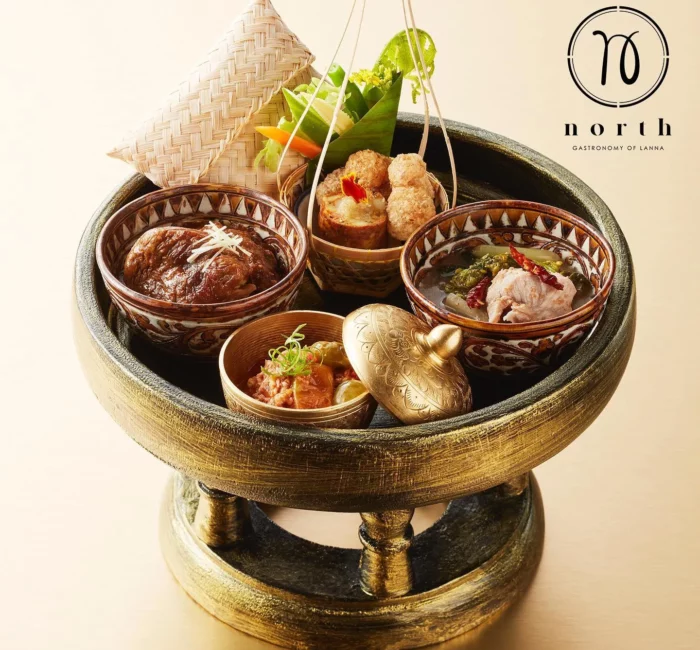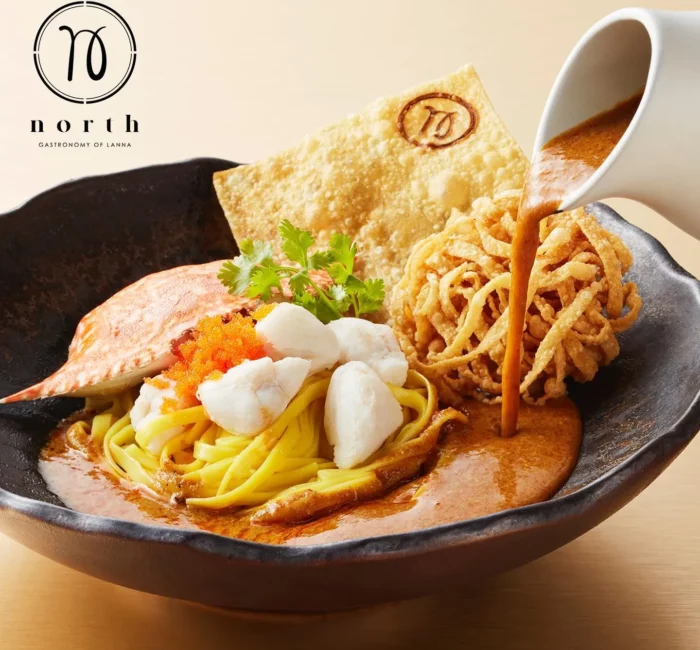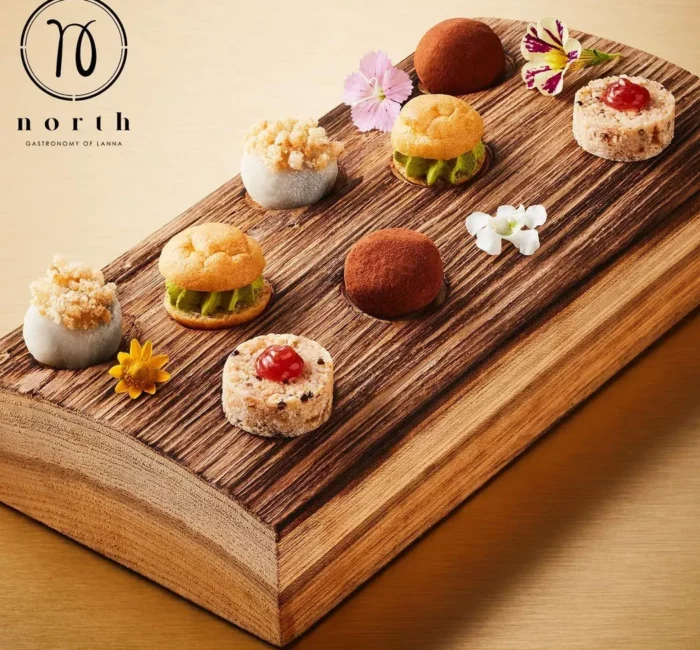 Hungry Hub invites you to enjoy fine dining in a northern-style restaurant hidden in a nearly 100-year-old wooden house renovated in green tones for a rustic feel, North Restaurant. The warm and inviting restaurant is prominently located on Sukhumvit Road, Soi 33. From the selection process, which focuses on local northern ingredients, to the modification of the appearance of the food to look more premium while still retaining the taste of northern food in the Lanna style, every dish on the menu is invented and meticulously created by two chefs from Chiang Rai. This restaurant is ideal for those seeking a higher level of northern cuisine.
Hour: 11:30 am – 11 pm
Location: 8 Sukhumvit 33 Alley, Khlong Tan Nuea, Watthana, Bangkok 10110
Recommended Package: Premium Set for 2 People (Lunch) (set of 6 dishes such as Khao Soi Beef Shank and more menus with drink) Book through Hungry Hub now to get the NET price of only 1,990 baht.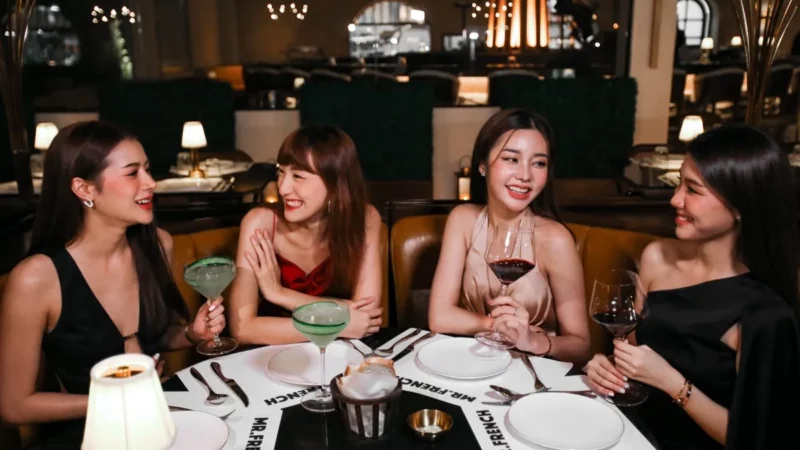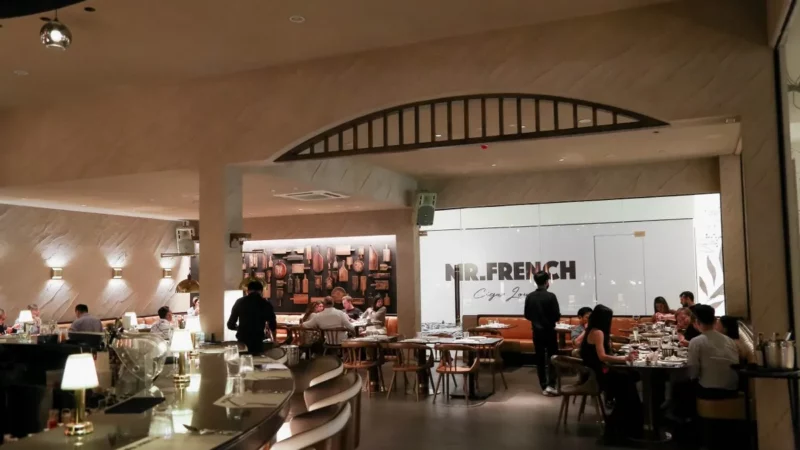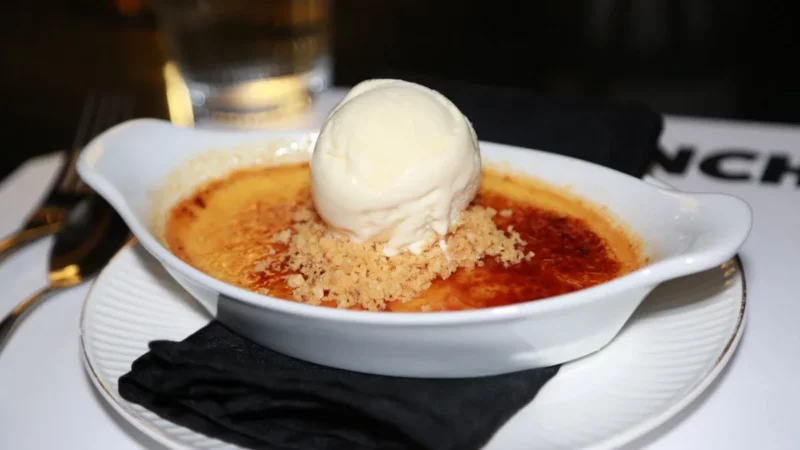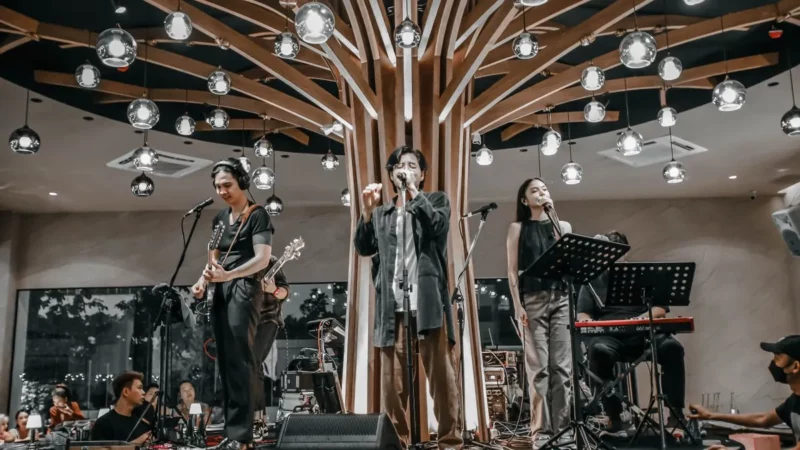 Mr. French, a chic fine dining restaurant on the second floor of Tops Fine Food, a new landmark for those who love premium food, is ready to impress visitors with a variety of French dishes prepared from premium ingredients to make many different types of delicious food that are served alongside refreshing drinks. Aside from excellent food, the venue also features hip-hop-style live music, making it perfect for an after-work hangout!
Hour: 5 pm – 11:45 pm
Location: 195 Sukhum Vit 49, Khlong Tan Nuea, Watthana, Bangkok 10110
Recommended Package: Premium Buffet (internation buffet + premium menu 1 dish such as Lobster Linguine and more (free flow drink)) Book through Hungry Hub now to get the NET price of only 1,790 baht.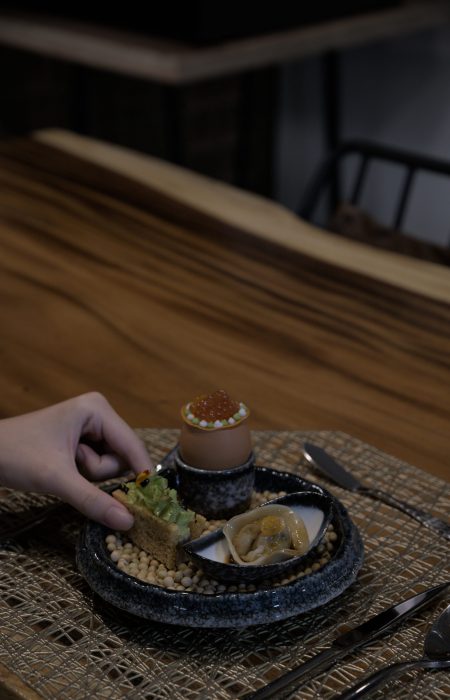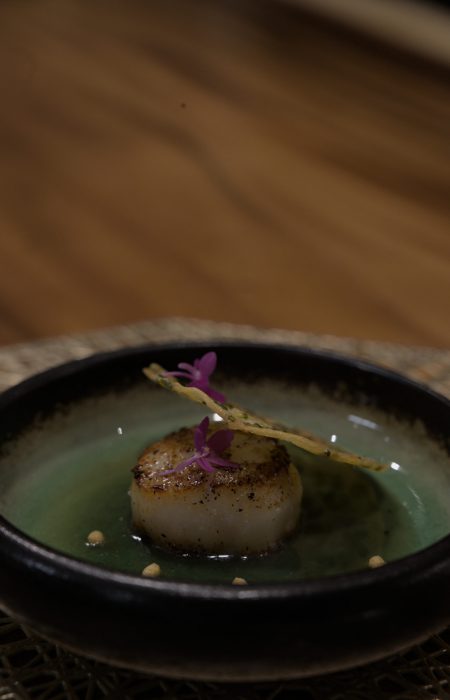 TestTaste, is a fine dining restaurant that was inspired by "Chef Puvadej Teacha" from the Iron Chef Thailand program and is well worth a visit. From the selection of quality ingredients to the diligent cooking, the chef designs each dish with meticulous care and attention to every detail. The atmosphere of the restaurant's decoration is cozy but luxurious, making it ideal for taking loved ones out for a special meal in a comfortable setting.
Hour: 12 noon – 6:15 pm (close on Tue. and Wed.)
Location: 316 Soi Charoennakorn 40, Banglumpoo Lang, Klongsan, Bangkok 10600
Recommended Package: Special Set Fine Dining courses set! exclusive drink for Hungry Hub: Preosecco 1 drink per person) Book through Hungry Hub now to get the NET price of only 2,800 baht.
Gaggan: A Revolutionary Dining Experience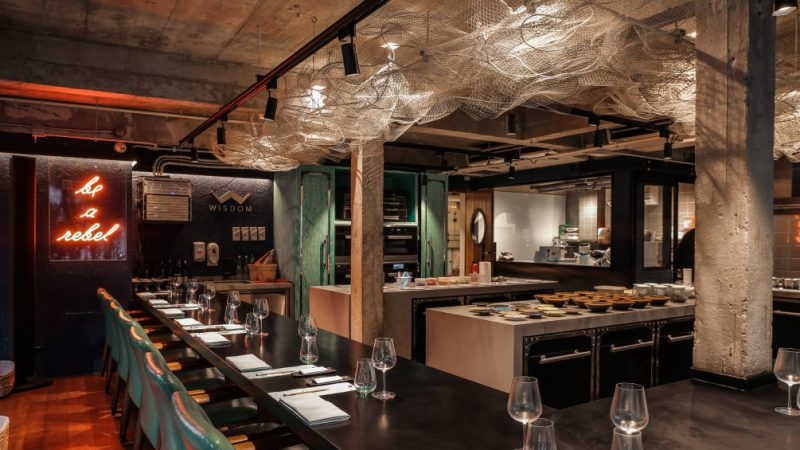 Gaggan, a two-time recipient of the "Best Restaurant in Asia" award and one of the most interesting fine dining in Bangkok, takes you on a culinary adventure like no other! Led by renowned chef Gaggan Anand, this progressive Indian restaurant offers a multi-course tasting menu that pushes the boundaries of traditional flavors. Prepare to be amazed by the innovative dishes that blend molecular gastronomy with authentic Indian spices
Hour: 5:30 pm – 12 am (close on Mon. and Tue.)
Location: 68 Sukhumvit 31, Khlong Tan Nuea, Watthana, Bangkok 10110
Le Normandie: French Elegance by the River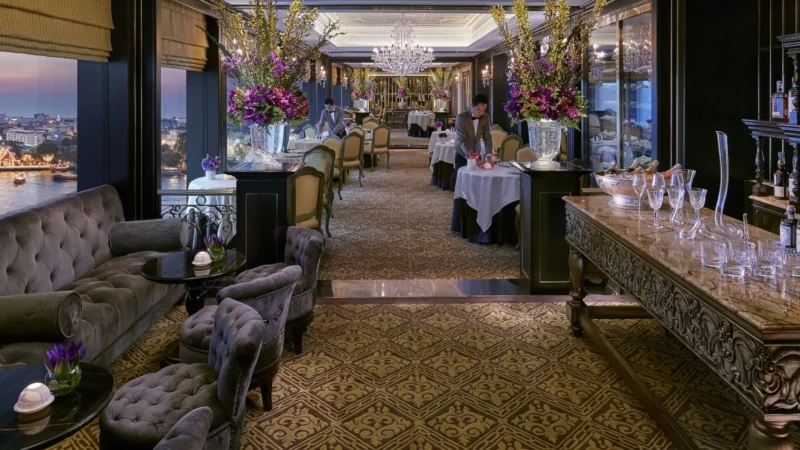 Le Normandie, situated within the iconic Mandarin Oriental Bangkok, is synonymous with elegance and sophistication. This legendary French restaurant offers breathtaking views of the Chao Phraya River while serving exquisite classic French cuisine. Indulge in dishes prepared with precision and finesse, accompanied by an extensive wine list that complements the flavors perfectly.
Hour: 12 – 3:30 pm, 6 – 11:30 pm (close on Mon.)
Location: 48 Oriental Ave, Khwaeng Bang Rak, Bang Rak, Bangkok 10500
Mezzaluna: A Symphony of Tastes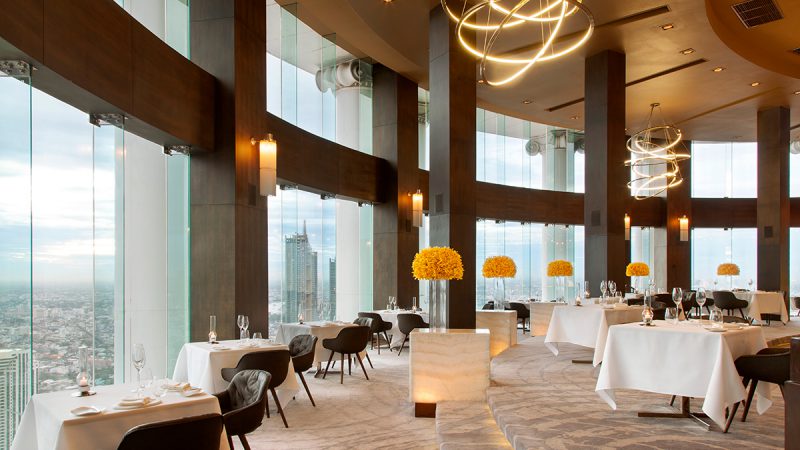 Located on the 65th floor of the State Tower, Mezzaluna offers not only breathtaking views but also an extraordinary dining experience. The restaurant features a tasting menu that showcases the culinary mastery of Chef Ryuki Kawasaki. Each dish is meticulously prepared and beautifully presented, offering a symphony of flavors that will leave you spellbound.
Hour: 6 pm – 12 am (close on Sun.)
Location: 65th Floor, State Tower Bangkok 1055 Si Lom, Silom, Bang Rak, Bangkok 10500
Bo.lan: Authentic Thai Heritage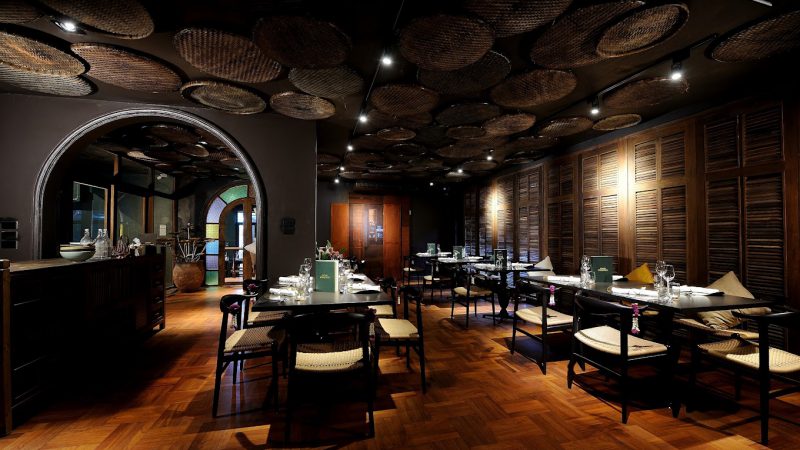 Bo.lan is a culinary gem that prides itself on preserving and showcasing traditional Thai flavors. Helmed by Chef Duangporn Songvisava and Chef Dylan Jones, the restaurant offers a menu that highlights organic and locally-sourced ingredients. With a focus on sustainability and seasonality, Bo.lan takes diners on a journey through the rich heritage of Thai cuisine.
Hour: 2 rounds/day 1st round at 6 pm and 2nd round at 8:30 pm
Location: 24 Sukhumvit 53 Alley, Khlong Tan Nuea, Watthana, Bangkok 10110
Paste: Artful Interpretations of Thai Cuisine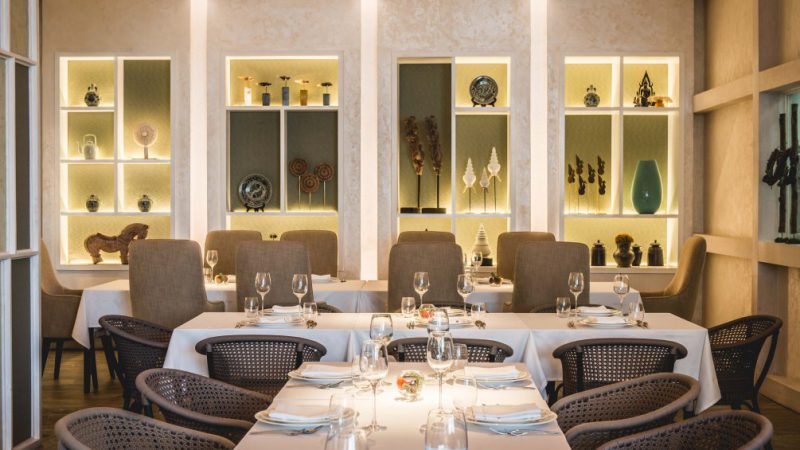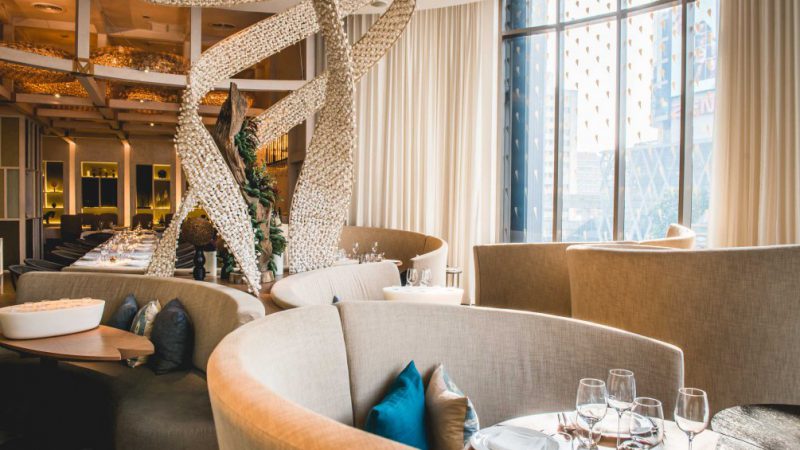 Paste, helmed by Chef Bongkoch "Bee" Satongun, pays homage to traditional Thai recipes while incorporating contemporary techniques. The restaurant showcases the artistry of Thai cuisine through beautifully plated dishes that balance bold flavors and delicate nuances. With its commitment to preserving culinary heritage, Paste has gained international acclaim and is a must-visit for food enthusiasts.
Hour: 12 – 2 pm, 6 – 11 pm
Location: Gaysorn Village, 999 Phloen Chit Rd, Lumphini, Pathum Wan, Bangkok 10330
Sühring: A Modern Twist on German Cuisine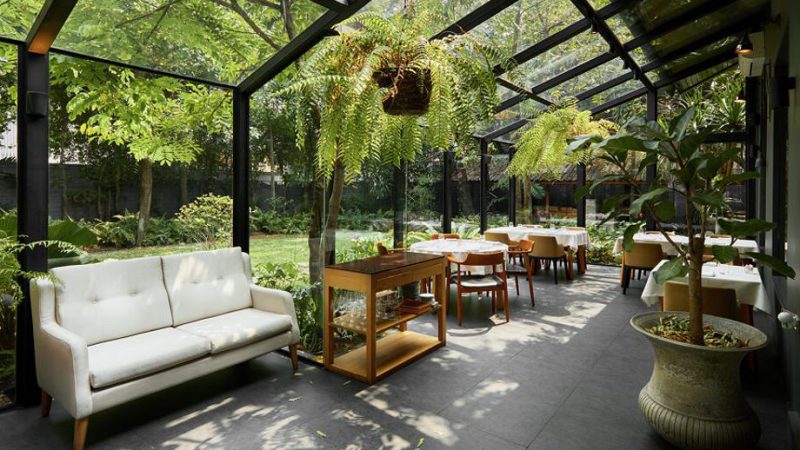 Sühring, the brainchild of twin chefs Mathias and Thomas Sühring, introduces Bangkok to modern German cuisine. Blending traditional flavors with contemporary techniques, the restaurant offers a unique dining experience. From homemade sausages to delectable desserts, Sühring takes German cuisine to new heights, earning its place among the top fine dining establishments in the city.
Hour: 12 – 1:30 pm, 5:30 – 9:30 pm (close on Mon. and Tue.)
Location: 10 Soi Yen Akat 3, Chong Nonsi, Yan Nawa, Bangkok 10120
If you find yourself in Bangkok, make a point of trying one of these incredible dining experiences. Immerse yourself in the flavors, ambiance, and impeccable service that these top places for fine dining in Bangkok are known for. Indulge in Bangkok's culinary delights and create memories that will last a lifetime.