The 16-year-old Rochelle would have laughed in disbelief if someone had told her that she'd embark on an unforgettable International Internship adventure in Thailand. Fast forward to today, and here I am, sitting in the bustling Bangkok city, crafting the final blog post for my extraordinary internship with Hungry Hub.
Greetings to all, I am Rochelle Chong, a final-year student from a post-secondary education institution in Singapore – Ngee Ann Polytechnic. If you're curious to learn more about my experiences working as an intern at Hungry Hub, the difficulties I experienced, and the many other fascinating encounters I had, continue reading on!
How did you come upon this opportunity?
Ngee Ann Polytechnic has a Global Entrepreneurial Internship Programme (GEIP) which allows students to physically work at international startups. The school has given me the excellent chance to start this six-month internship in Bangkok, Thailand.
As Bangkok, Thailand's vibrant capital, is gaining recognition as a booming centre for businesses and innovation, I felt incredibly honoured to be given such a tremendous opportunity to elevate my knowledge. Bangkok's startup ecosystem is recognised on a worldwide scale thanks to its emphasis on talent, infrastructure, private investment, and public sector incentives.
Subsequently, I had an online interview with Hungry Hub, and shortly after that, I received an offer letter. This is when my six month international internship became a reality.
What is my role in Hungry Hub?
Writing in an interesting style that draws readers is what I am required to do as an English Content Writer. Despite the fact that I had no prior writing experience in English, I learnt a lot during this internship. Additionally, I've gained a lot of new knowledge, including how to use Search Engine Optimisation (SEO) and how to use keywords to increase the SEO position of the content I produce.
I work alongside Joey, another English Content Writer intern, to produce eye-catching push notifications for the mobile version of Hungry Hub. In addition, we create titles and descriptions for restaurants so that customers can learn more about the establishment (such as its location, ambiance, and cuisine).
Aside from that, I also publish weekly blogs. Since I could write in my own distinctive way, this is my favourite aspect of my job description. I have no restrictions on the types of blogs I may create, so I could do informative, travel, and food blogs, among other types.
What is Hungry Hub's company culture like?
Thailand's company culture uniquely combines traditional values together with modern business practices. As the country has a rich history and emphasises respect, hierarchy, and harmony, Thai companies foster a work environment that is warm, friendly, and supportive.
The concept of "Sanuk," which means "fun" or "enjoyment," is another important part of Thai corporate culture. Thai people feel that work should be enjoyable, and businesses frequently include amusing and lighthearted elements to increase staff morale. At Hungry Hub, it is common to hear laughter echo throughout the office. Even though I might not understand the context, since it is in a foreign language, my spirits are lifted as I observe others and I get their happiness as well!
Compared to Singapore, Thailand does not place a great emphasis on the attire you wear to work. This is evident by the casual dress code (and by casual, I am allowed to wear Crocs or other funky shoes!). Additionally, it was an interesting sight to see that my coworkers would bring their blankets to work, since the office is frequently cold.
Also, at Hungry Hub the office hours are extremely flexible. Interns are required to work from 10:15 A.M. – 6:00 P.M.!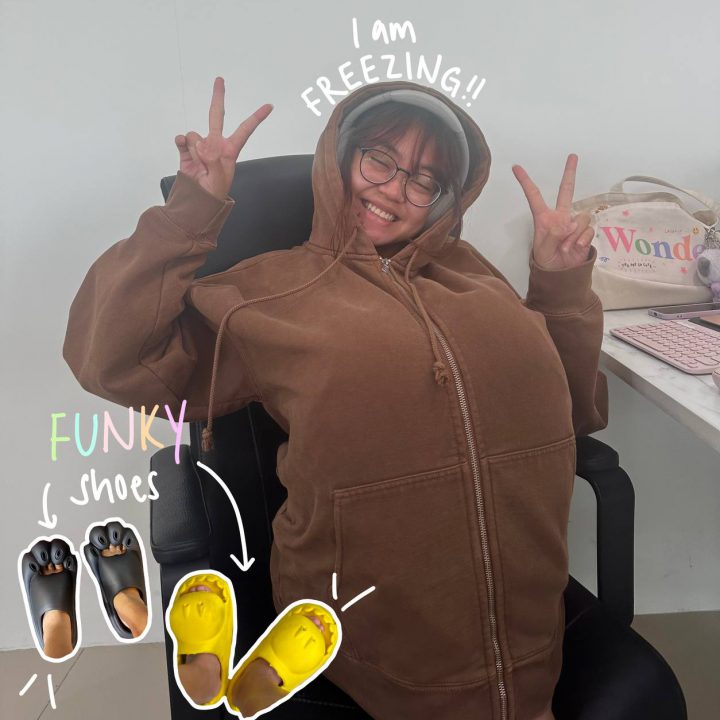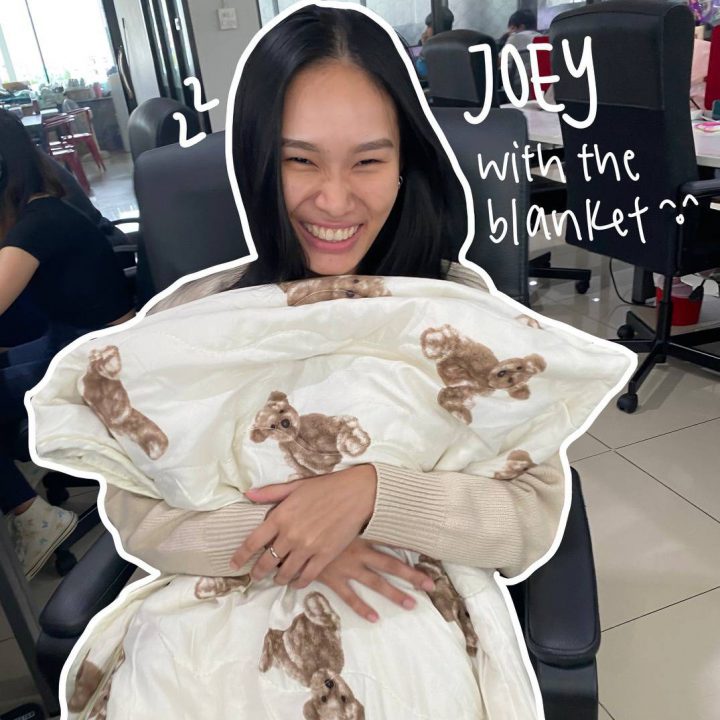 What are Hungry Hub's employees like?
My inability to speak or understand Thai, along with the fact that this was my first internship, had me initially concerned that I would be excluded from the team. However, the lovely staff at Hungry Hub proved me otherwise. The previous batch of Thai interns would always invite me to join them for lunch, and try to engage in conversations with me. Despite the language barrier, I was able to feel comfortable around them.
There was one memorable event that I would frequently think back on.
On the 23rd of April, I had contracted COVID-19. This was my first time getting the virus, and in a foreign country. I had to be admitted to the hospital as my fever was extremely high at 39 degrees celsius.
My main worry at that time was whether I would be able to finish my tasks because I had a terrible headache. I informed my supervisor, P.Mam, by text that I would not be able to report to work for an unknown number of days in order to rest and prevent the spread of the illness to other employees.
P.Mam was extremely understanding and told me to recover completely before going back to work. The previous Chief Marketing Officer, P.Fern, also offered to assist with any necessary communication with the medical employees, as they did not speak English.
This incident made me deeply appreciative to run into such compassionate and considerate employees! The employees at the company are without a doubt the greatest. They frequently keep an eye out for me and would strike up conversations when we pass one another. In Hungry Hub, I feel incredibly welcomed.
(I finally recovered on the 5th of May, if you're wondering…)
What is your favourite part about working at Hungry Hub?
Prior to working for the company, I was not a big eater, but over time, I noticed that I enjoy eating a variety of foods and snacks.
As the name of the business implies (Hungry Hub), I frequently feel hungry while working. But the pantry is often packed with tidbits, so I could never starve. The "Big Sheet" seaweed snack is without a doubt the most well-liked snack in the Hungry Hub kitchen, because just two days after the restocking, it would be completely gone!
In addition, I also participate in shoots to write review blogs about the restaurant. So, for work, I frequently indulge myself in delicious cuisine. Watch this clip here to understand more about what I do during shoots.
During my photoshoot with P.Deaw, the photographer, he asked me to hold up the food to get some awesome shots of the dishes. Of course, being the adventurous soul I am, I went along and followed his lead.
But wait, it gets crazier. There were times when I had to be the actual model. Me! I never thought I'd be in front of the camera, posing like a pro. At first, I felt a bit awkward with all those poses. But guess what? The more I tagged along on these shoots, the more I loved it!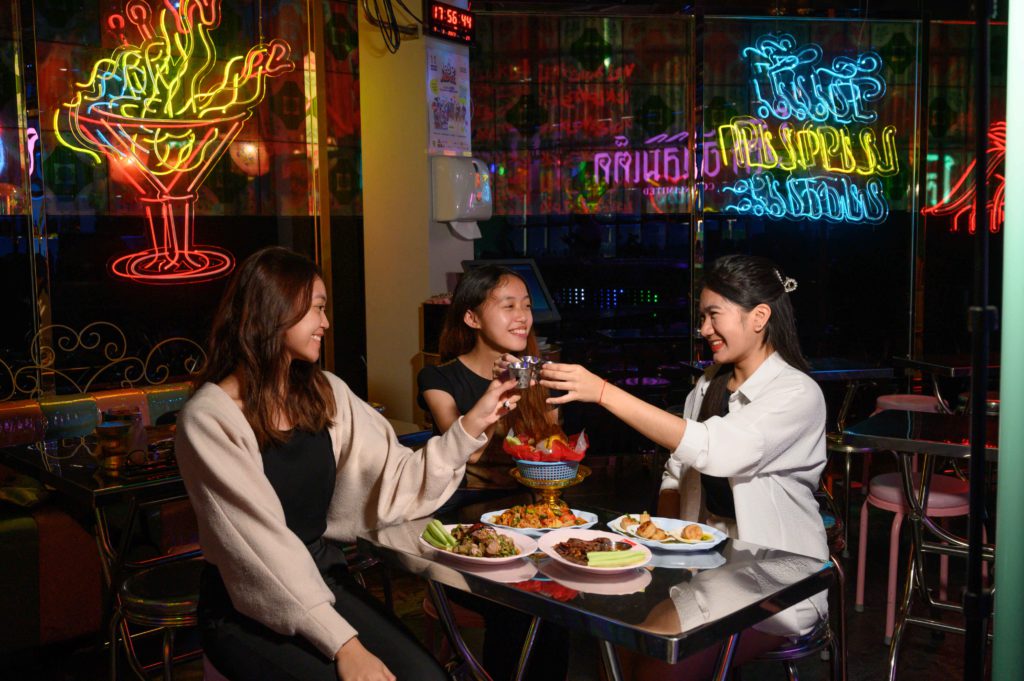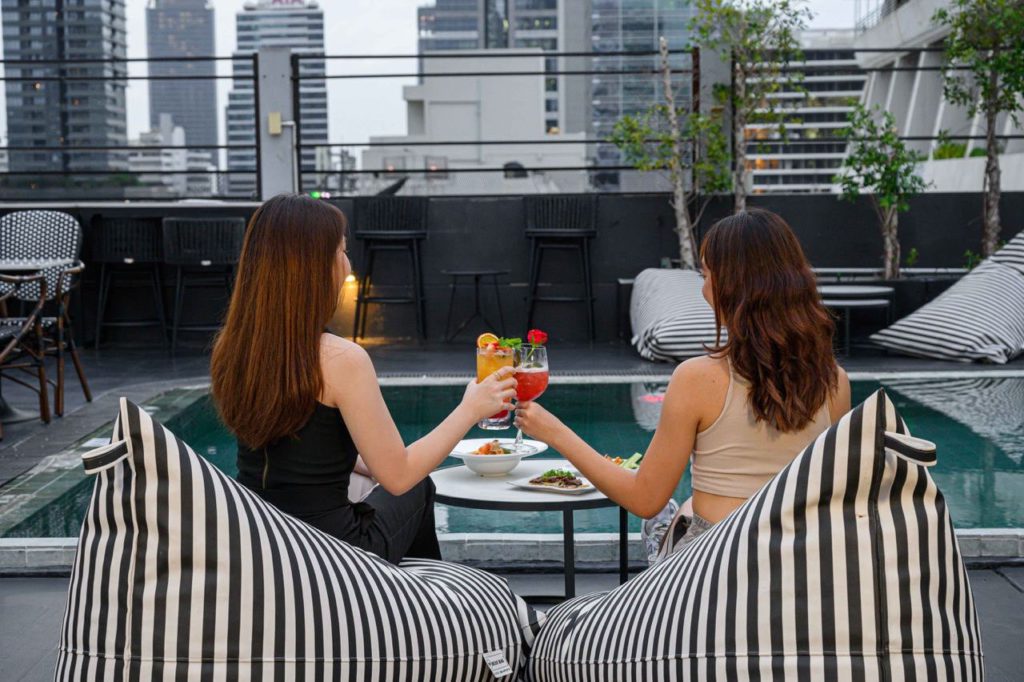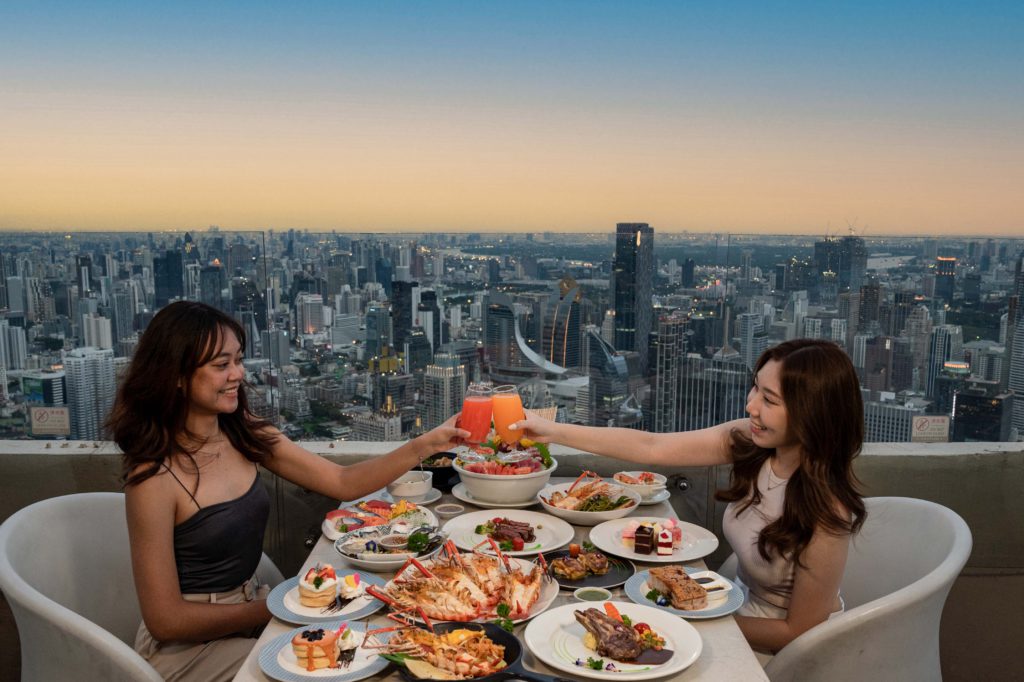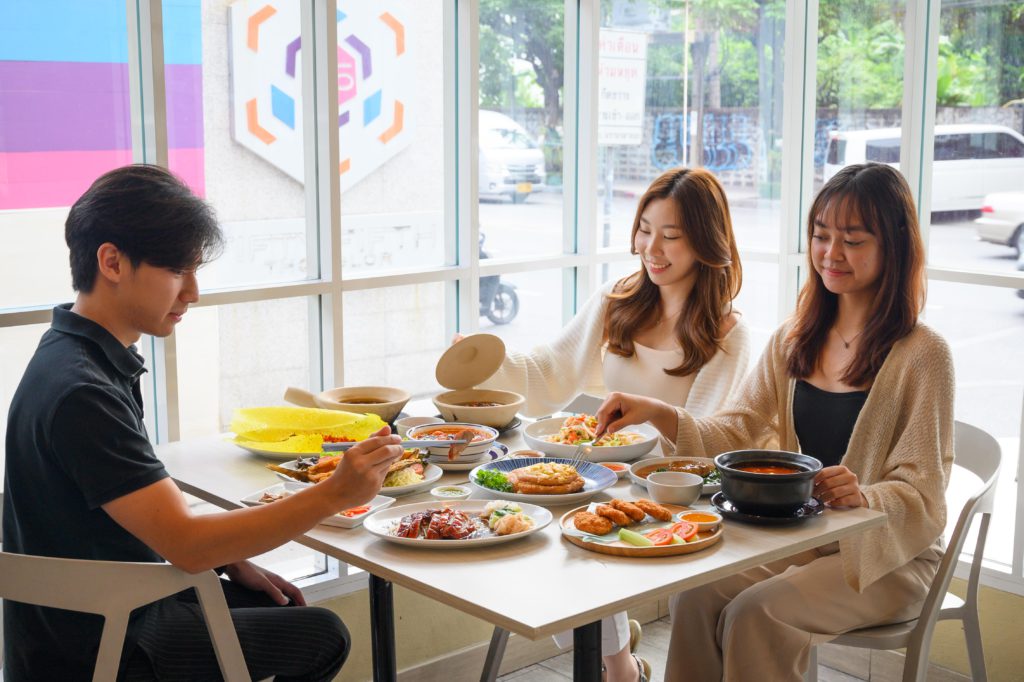 This was something I completely did not expect when working here. It's such a unique and rare opportunity for me to do something like this, and I'm totally embracing it now. Who would have thought I'd enjoy being a model? Life's full of surprises, and I'm definitely making the most of it! 📸
Was it hard to adapt to Thailand?
Definitely. I was so accustomed to Singapore's culture, language, food, and everything else growing up there for the past 19 years! The moment I landed at Suvarnabhumi Airport, a wave of emotions swept over me.
Since this is something I never thought I'd experience, I was 95% excited and 5% anxious because I wasn't sure if I could adjust to the new lifestyle. But, I adapted quicker than expected. 🙂
I truly felt at home in this country because of the warmth and hospitality of the Thais. I'll always remember the kindness I've received, and would definitely return the favour in the future!
To start off, I would like to thank K.Sit (CEO) and K.Ravi (COO) – the Co-founders of Hungry Hub, for making this fantastic six-month internship possible. I'm incredibly appreciative of the chance to grow professionally!
Next, I'd like to express my sincere gratitude to P.Mam. I sometimes experience problems at work, but she will never lecture me, but instead always be there to guide and support me. She has transformed into more than simply a supervisor; I now regard her as a dear friend. I'm sure that this friendship will last even if we head onto different paths in the future. Once again, I am truly thankful for everything, P.Mam!
I also like to thank P.Ploy for recommending us Singaporean interns to know where to get one of the greatest noodles near our office. We were all really perplexed the first time she brought us to the stall because it was so local and everything was in Thai. Thankfully, P.Ploy assisted us in ordering from the menu and helped us translate. (Funny fact: Although the store's name is Cham Kin Dai, we call it "P.Ploy noodles"!)
P.Deaw frequently inspires me by his great passion for photography, despite the language barrier that occasionally arises between us. I've always found it fascinating to view the world from a different perspective through a camera, but I also realise that taking pictures is not a simple endeavour. Hats off to him for always taking wonderful pictures for my food blogs!
Last but not least, I want to express my appreciation to the Singaporean and Thai interns who never stopped looking out for me. We engage in a variety of daily activities, and I have gained a great deal of knowledge from them. I appreciate all of you for putting up with my childishness and letting me remember my younger, carefree days.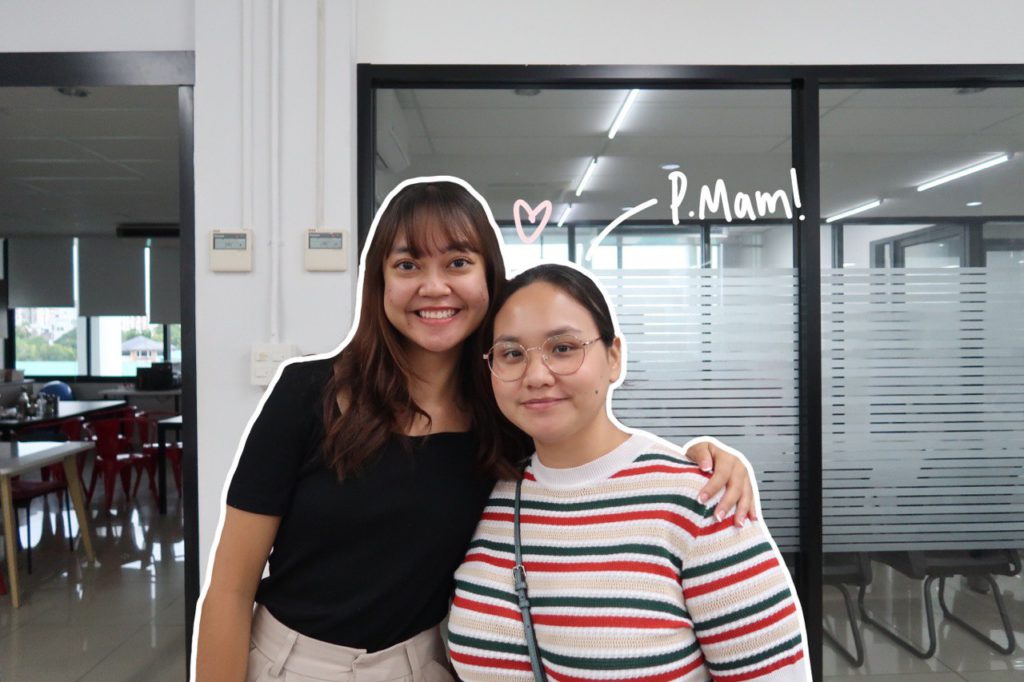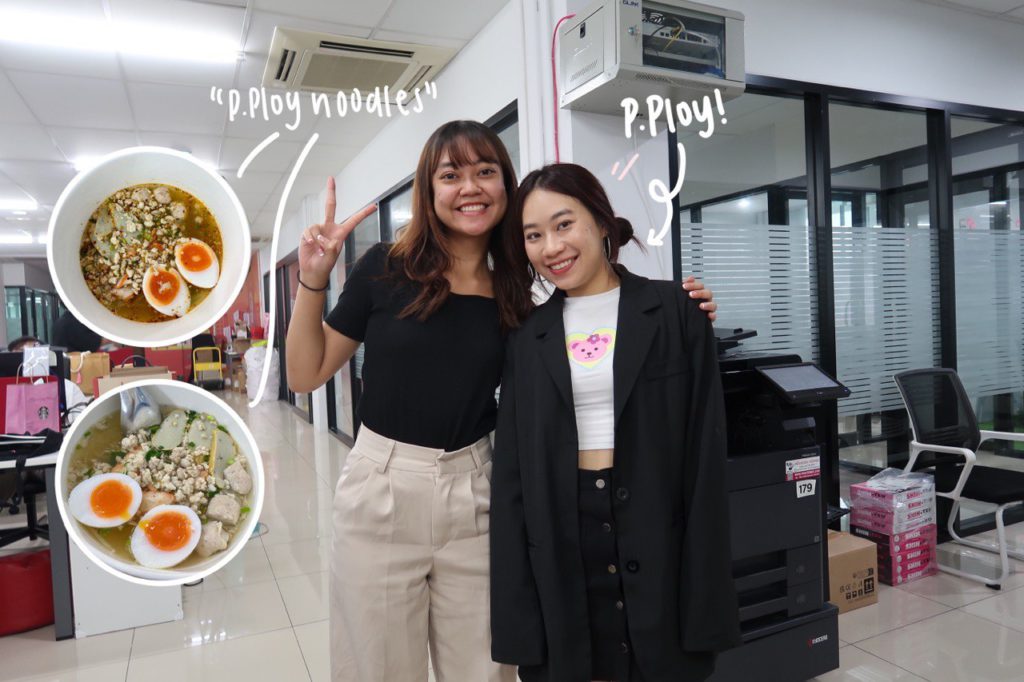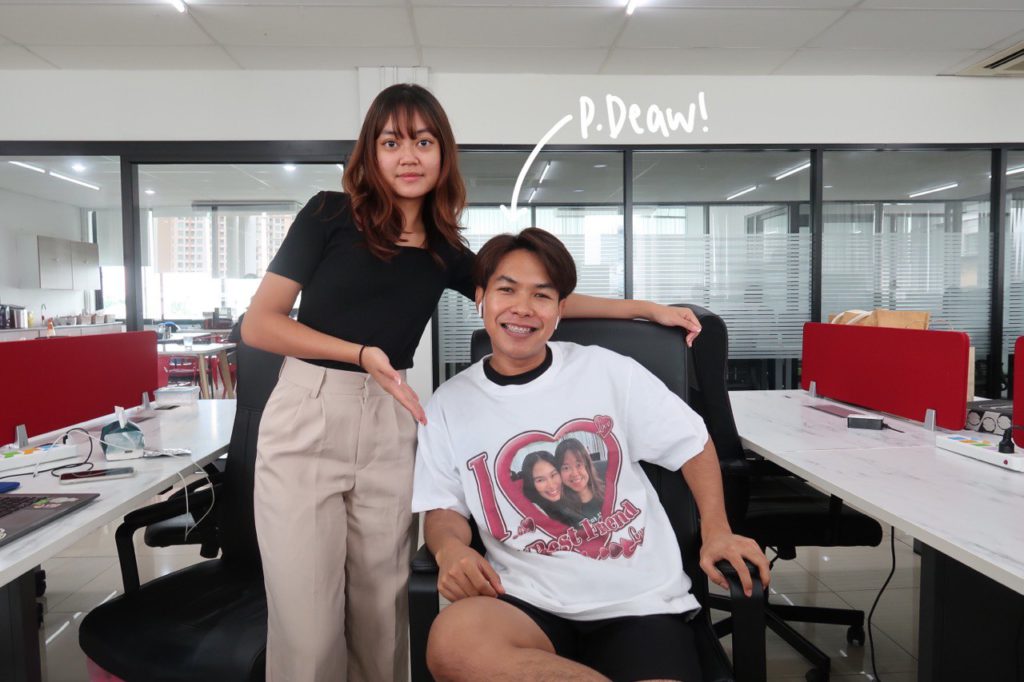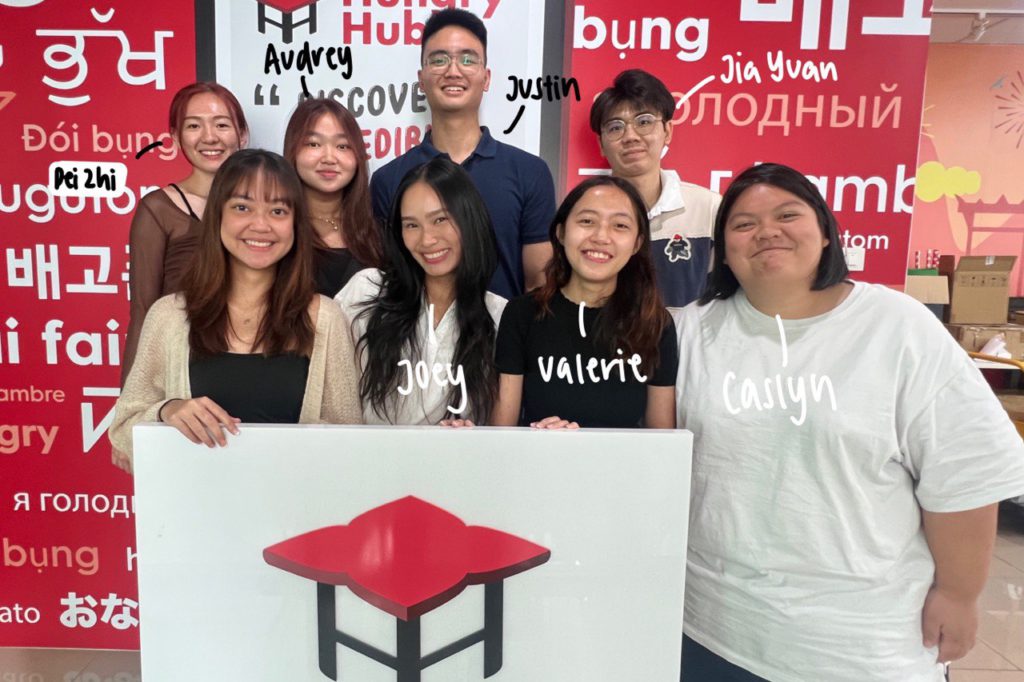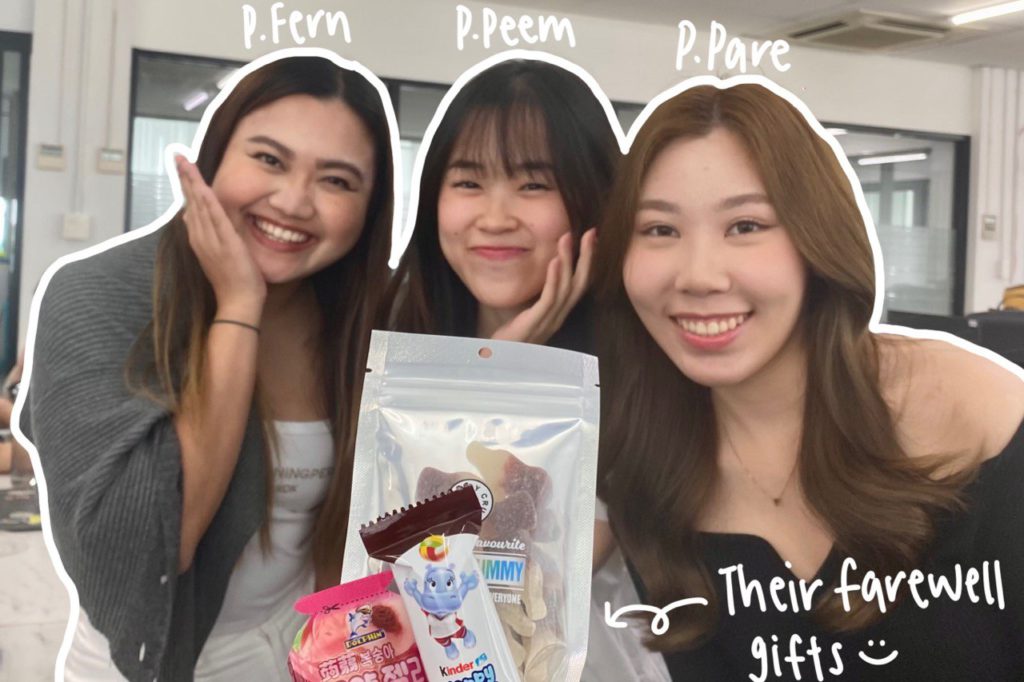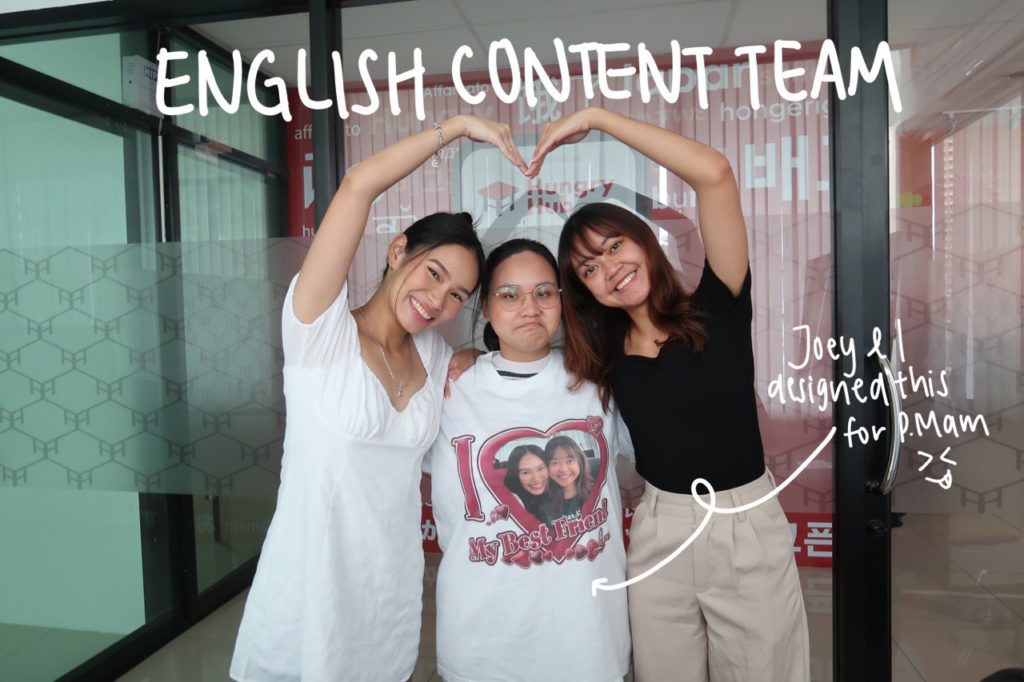 As I sit down to think back on my journey as an English content writer, I feel various emotions including pride, appreciation, and a sense of accomplishment. The sensation of connection with readers is incredibly satisfying. My passion for writing is fueled by the knowledge that my words can educate, motivate, or amuse others.
To sum up, studying and growing as an English content writer has been an amazing adventure. I am excited to follow this road and see where it takes me next because it has allowed me to combine professionalism and creativity. I want my writing to inspire and captivate readers while also leaving a lasting effect.
It's amazing how life can surprise us, and my experience is proof that dreams may come true. When I originally learned about the International Internship opportunity, I had no idea if it might actually happen. However, as I consider these situations that changed my life, I feel a tremendous sense of accomplishment.
I consider myself incredibly fortunate to have been given this chance and to have met such amazing people who have opened my eyes to a new perspective on life. It's truly terrible that everything good finally comes to an end, but as I say goodbye, I'll never ever forget this adventure!
Signing off,
Rochelle Chong 🤍