Hey there, fellow foodies! Today, I'll be taking you on a culinary tour to Bangkok Balcony at Baiyoke Sky Hotel, one of Bangkok's most stunning dining locations. Get ready for an extraordinary experience that will leave your taste buds begging for more!
Baiyoke Sky Hotel is conveniently located right next to Pratunam Market, a shopping haven for all. The nearest BTS station is Chid Lom, which is in central Bangkok, thus you would have a lot to explore in the area.
Bangkok Balcony, tucked away on the 81st story of the Baiyoke Sky Hotel, provides a dining experience unlike any other. You'll be met with a contemporary and trendy atmosphere where elegance meets comfort as soon as you enter the urban oasis. An exquisite backdrop for your meal is provided by the restaurant's floor-to-ceiling windows, which offer spectacular panoramic views of the lively city below. There is outdoor seating, which is recommended for couples as it has a romantic atmosphere, especially during the sunset!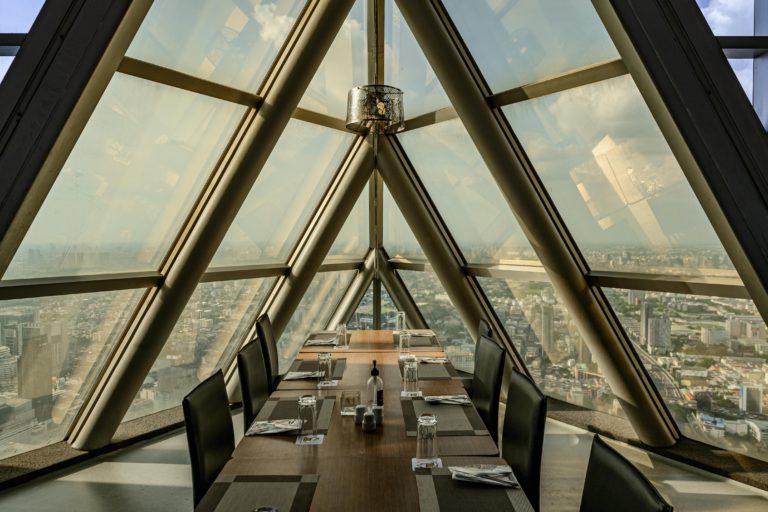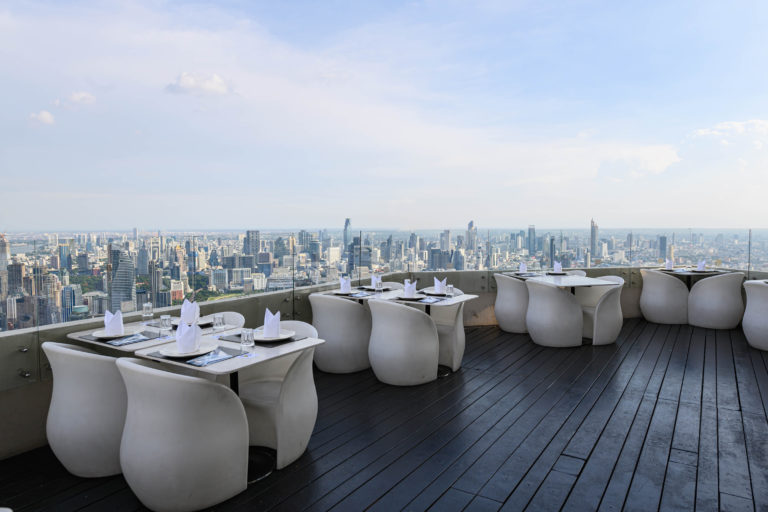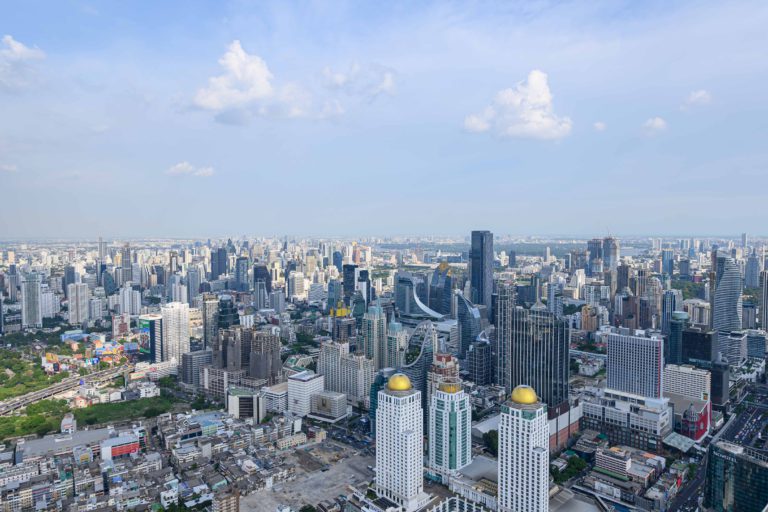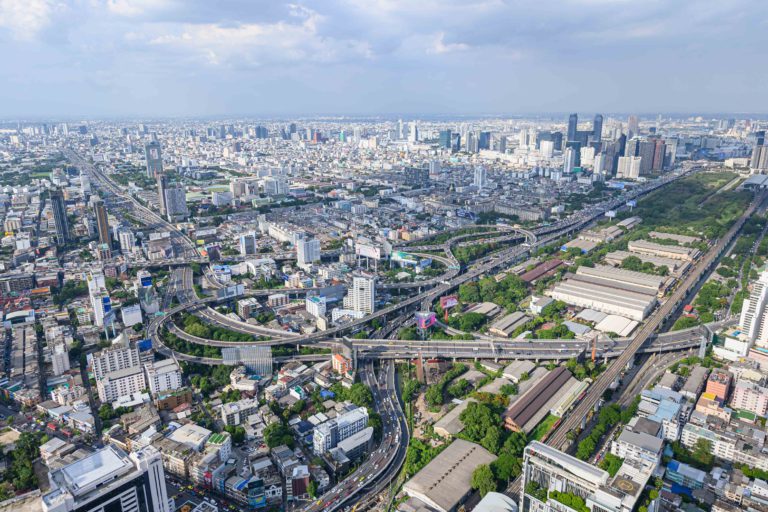 There are many different food stations around the restaurant, including Grill station, Seafood station, Sashimi station, Noodles station, and Fruits and Dessert station. Since the building is a circular structure, it is easy to follow the crowd and get the food.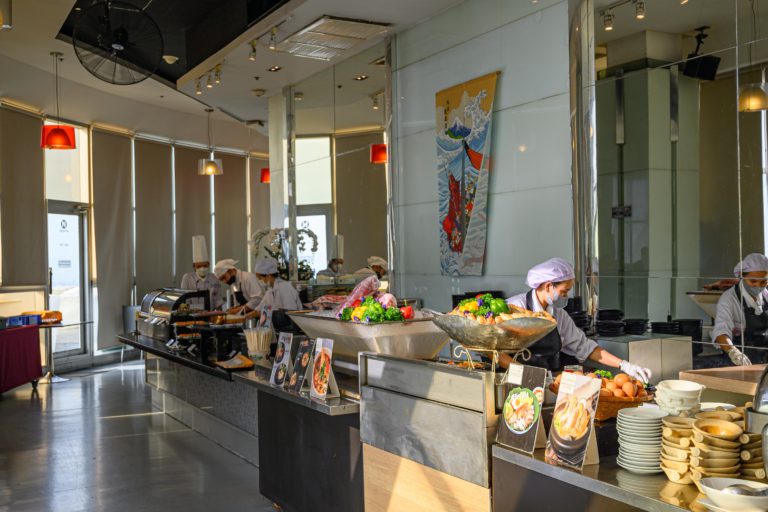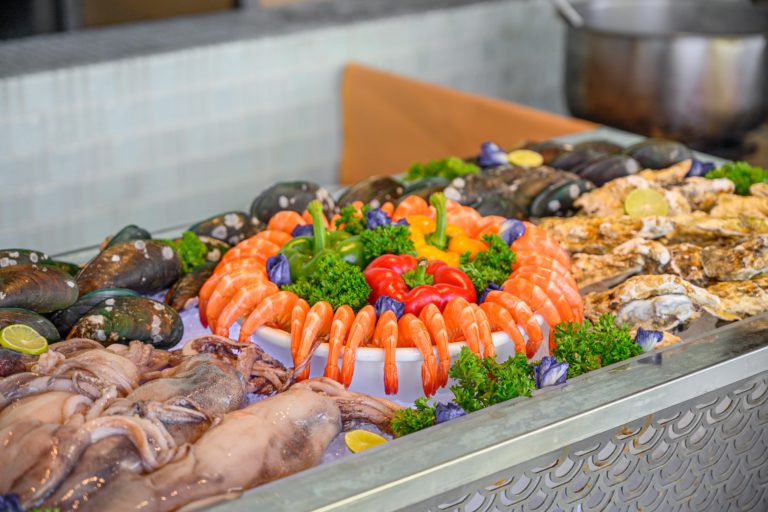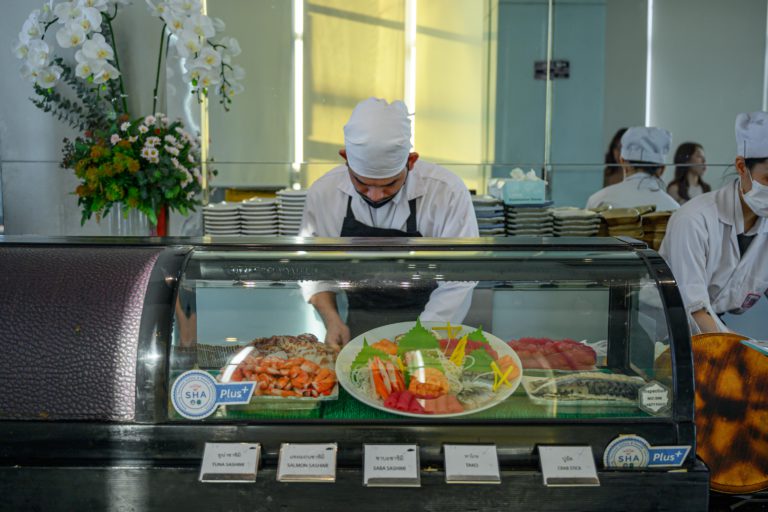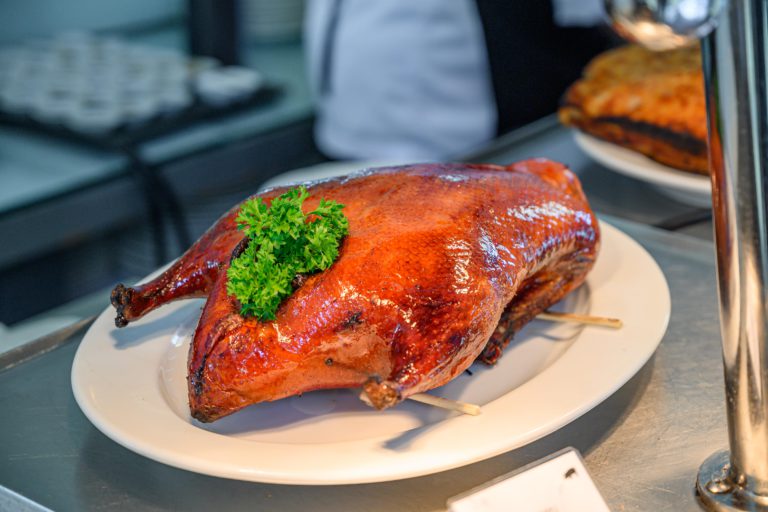 Enough about the restaurant's ambience, let's move on to the most important factor – the taste of the food!
Divine Delights at Bangkok Balcony
First things first, the tenderness of the Australian Sirloin steak is its main selling point. You'll think you've struck gold once you bite into the perfectly marbled, tender meat. It has the ideal ratio of lean to fat, which gives it an amazing melt-in-your-mouth quality.
Let's now discuss flavour. Imagine a powerful, meaty flavour that hits you square in the mouth. It's difficult to match the deep, meaty taste of Australian Sirloin. Like a palate rollercoaster, it starts with a gently charred and smoky outside before bringing you to the juicy, tender centre.
This Australian Sirloin never disappoints, whether you want it medium-rare, medium, or well-done. Every mouthful is a journey and a celebration of tastes that will have you wishing for more!
A symphony of tastes dances on your palate with every bite of the Foie Gras Steak. The unique, almost sweet, and delicate flavour of the foie gras nicely pairs with the tender steak. The harmonic blending of somewhat sweet and savoury aromas results in a delightful taste sensation.
You will experience a juicy and luscious sensation as you bite into the steak. The meat itself has been cooked to perfection and has a soft texture that almost melts in your mouth. With its distinct buttery flavour, foie gras gives the whole flavour profile an additional layer of richness.
So, my fellow foodies, if you want to treat yourself to a truly decadent experience that will make your taste buds sing, this Foie Gras Steak is the way to go. Prepare to experience the delectable blend of tastes, the velvety texture, and the subtle sweetness!
It's all about the juicy, melt-in-your-mouth bliss with these Australian Lamb Chop. You'll thrill at the flavour explosion in every bite. The meat is deliciously tender and provides that scrumptious experience you desire.
The dish has a flavour that is intense and difficult to match. You'll be whisked away to the land of flavour nirvana by its delectable harmony of savoury and faintly gamey aromas!
The exterior of the Australian Lamb Chop develops a delectable crust when it is cooked to perfection, adding an appealing texture. Everything revolves around that deliciously charred, slightly crunchy goodness that seals in the juiciness and improves the whole experience.
The Assorted Sushi creates a symphony of flavours with every bite. It gives a distinctive experience, from the buttery richness of the salmon to the clear, sharp flavours of the tuna. The carefully chosen combinations offer a delicious contrast and balance that entice you to want more.
However, it goes beyond the fish alone. The vinegared rice, also known as Shari, gives the overall taste profile a delightful tanginess and delicate sweetness. It enhances the flavours of the fresh fish and creates a combination that is absolutely enticing.
This dish is a feast for the eyes in terms of presentation. It is a visual joy due to the vivid colours of the fish, the delicate plating, and the creativity in each piece. It's like edible artwork that's almost too beautiful to eat (but trust me, you'll want to devour it!)
Every bite of the Crispy Pork provides a wonderful crispiness that is both a party for your lips and music to your ears. The meat beneath is luscious and delicate, while the exterior crackles with delight.
The juicy meat is expertly seasoned with the ideal ratio of savoury and aromatic spices. It feels like there is a flavour festival going on in your mouth. However, the magic continues after that! The pork meat is made even more tasty by the marinade. A blend of herbs, spices, and perhaps even a touch of sweetness is combined to enhance the overall taste profile.
Crispy Pork never fails to satisfy in terms of taste and satisfaction, whether you eat it by itself, with a spicy dipping sauce, or as a side for other dishes. Every bite of this beloved comfort dish is joyful.
6. Grilled River Prawn with Spaghetti Pesto Sauce
The Grilled River Prawn with Spaghetti Pesto Sauce is my absolute favourite out of all the dishes. Imagine biting into fresh, juicy, and tender prawns that have been expertly cooked. The subtle sweetness of the prawns contrasts wonderfully with the charred, smoky flavours of the grill. The prawns are a seafood lover's dream come true!
Let's now discuss the pesto sauce for the spaghetti. Prepare for a rush of vivid, fresh sensations. The pesto sauce is a green goodness made of tangy Parmesan cheese, fragrant basil, nutty pine nuts, and a hint of garlic. The spaghetti is covered in a symphony of spices, providing a lush and herbaceous backdrop for the dish's main attraction — the grilled prawn.
But there's more to it than simply the flavour – the texture. The grilled shrimp gives a luscious and somewhat firm bite, and the al dente spaghetti offers a lovely chewiness. Each mouthful keeps your taste buds interested due to the great balance the combination of textures generates!
Starting with the main attraction of the Wagyu Beef Shabu, the Wagyu beef meat. Imagine delicate beef slices that melt on your tongue. The meat has an unmatched richness and is wonderfully buttery and delicate.
As for the flavour of the Wagyu beef, you'll crave second servings due to the burst of flavours. Due to the beef's marbling, it has a rich and delicious texture. Your taste is treated to an orchestra of savoury notes with each bite.
The taste balance in the broth is excellent. It is sour, tart, and slightly sweet, making it incredibly fragrant and you would want more. If you enjoy flavourful foods, this soup is ideal for you because it has a ton of flavour!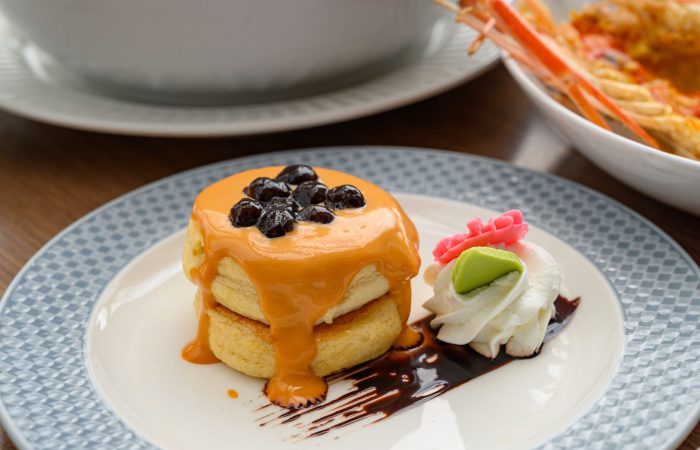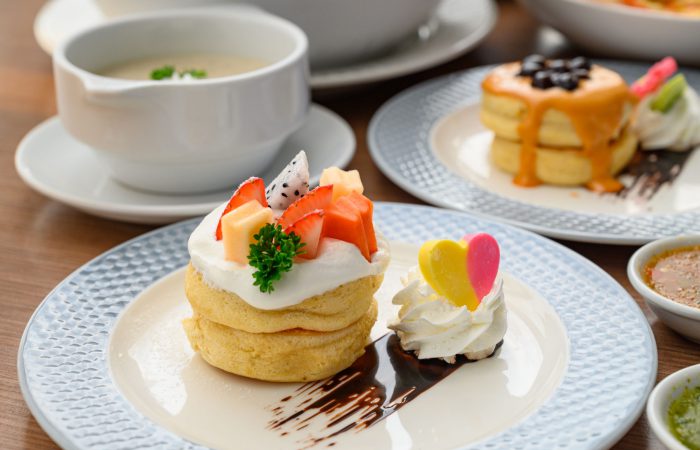 Since I personally have a sweet tooth, I would choose the Assorted Desserts over entrées. The souffle pancakes had a wonderful flavour. It was jiggly and fluffy. In contrast to other pancakes, the egg taste was not overpowering.
The toppings added to the enjoyment of the assorted desserts. The pancake topped with Thai Milk Tea Sauce and Tapioca Pearls was my personal favourite. If you think it could be too sweet for you, I strongly suggest the pancake topped with fresh fruits!
There were a ton of other desserts, including Mango Sticky Rice, but I was so stuffed from the main course that I was unable to try it. I would most certainly go back to the restaurant and enjoy the other sweet treats soon!
To top it all off, Bangkok Balcony offers incomparable customer service. The welcoming and caring personnel go above and beyond to make sure that each visitor feels comfortable and well cared for. Your meal experience will be enhanced by their friendliness, which will make it much more enjoyable.
Hour: 5:00 P.M. – 9:15 P.M.
Location: 222 @ 81 Fl. Baiyoke Sky Tower, Thanon Phaya Thai, Ratchathewi, Bangkok 10400
Recommended Package:

NEW: Balcony Unlimited Restaurant (Indoor Zone)

(Luxurious atmosphere (Floor 81), International buffet for 2 hours! + IRON CHEF SPECIAL MENU (Package for Indoor Zone booking, booking time: 2 rounds 17:00-19:00, 19:00-21:00)
So a trip to Bangkok Balcony is a must for everyone, locals as well as visitors taking in the bustling metropolis of Bangkok. This restaurant promises an evening of culinary delight that will make you yearn to go back because of its breathtaking views, delicious cuisine, and first-rate service. At Bangkok Balcony, treat yourself and go on a culinary journey you won't soon forget!