Talking about "What is Wagyu beef?" an amazing ingredient from the land of the rising sun, which has a unique fragrance with soft texture which has the huge tendency to melt in your mouth. I am sure many people must be imagining Wagyu Beef because it is definitely one of them these days. Today Hungry Hub the origin and the grade of meat which will definitely hit all the meat lovers out there.
What is Wagyu Beef?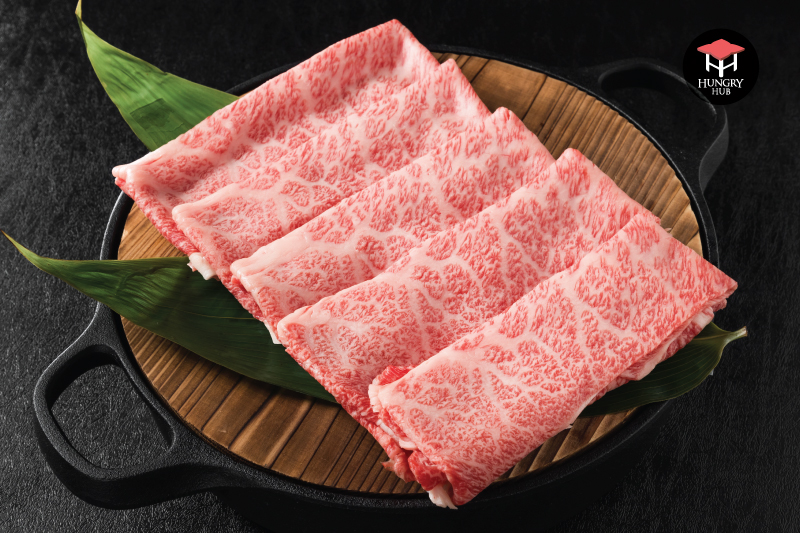 Wagyu Beef is a slice of meat make from 4 main breeds of cows. From Japan, the word Wagyu originated from 2 consonants that are "Wa" which stands for Japan and "Gyu" stands for beef. Wagyu is a slice of meat in which the amount of fat is inserted in a mesh-like a structure called marble pattern, which is much softer, tender, and improves the quality of meat. It is one of the most expensive meats in the market.
Moreover, import beef that comes from abroad is rising in Japan over a period of time eg. Cows from America and Australia can also identify as Japanese beef. Cows from America and Australia can also identify as Japanese beef.
Wagyu beef types
There are 4 types of wagyu beef.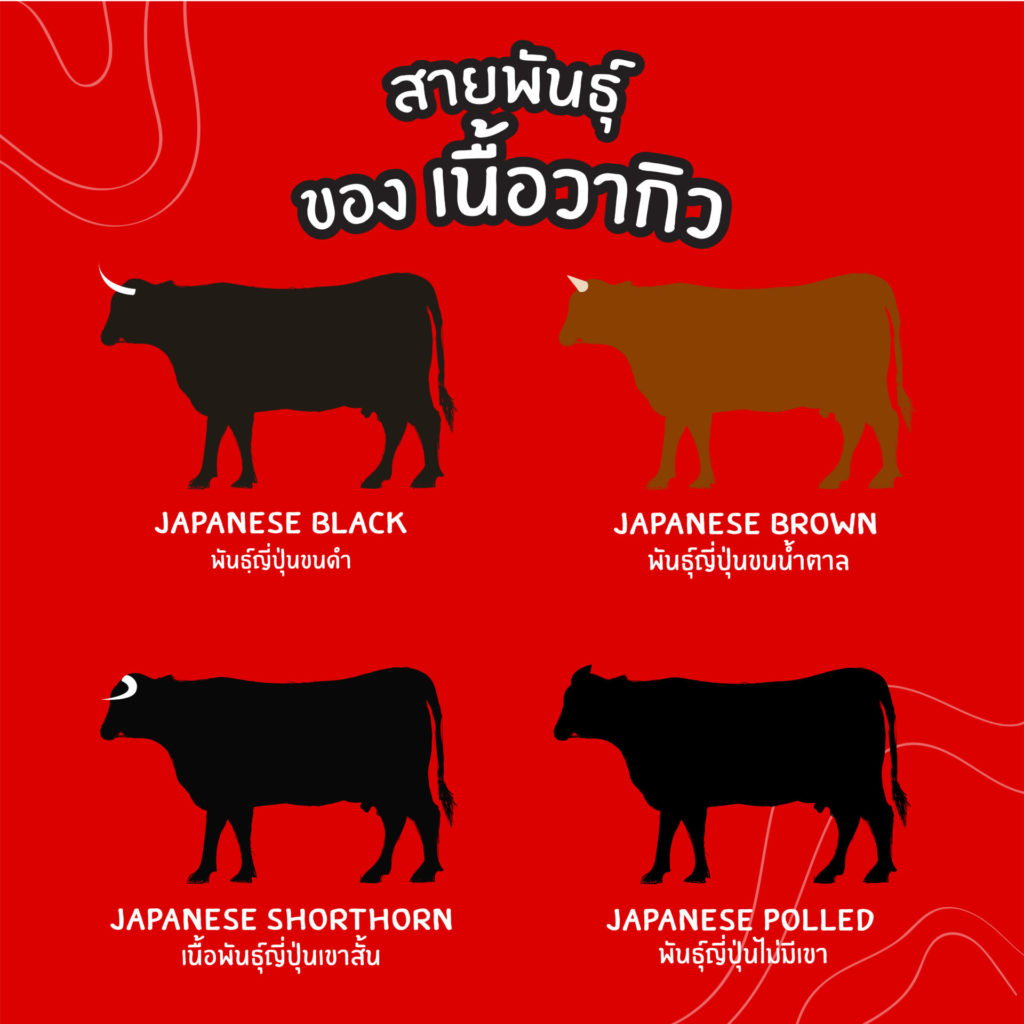 Japanese Black or Japanese black hair
The black-Haired Japanese meat breed is known as Kuroke Wagyu, which is raised in Kansai and Chugoku regions. It is considered as the best beef breed which is at the top because the size of the cow is quite huge with skinny black fur. This type of meat is considered bright red meat. There is an immense amount of fat inserted in the meat and it is also soft which melts in your mouth. Once if this is inserted in your mouth, you can tell that "Oh my god this is delicious" or " Man this meat is from heaven". Moreover, it contains healthy ingredients like Omega 3 and Omega 6.
Japanese Brown
Brown-haired Japanese Beef which is known as Akau Shingwagyu Beef is popular meat that is raised in Mamoto and Kochi. It has a soft texture, is sweet, is quite flavorful, and is less fattening than the Black Haired Kuroke Wagyu because it contains only 12% of fat.
Japanese Shorthorn or Japanese Shorthorn
Japanese Shorthorn beef is known as Lwate-gyu beef is popular meat that is raised in the North Tohoku region. The beef is thin, dark red, high in protein, and low in fats with high amino acids which makes it very delicious and suitable to bodybuilders.
Japanese Polled or Japanese Meat without horns.
Japanese breed without horns, it is a slice of popular meat that is raised in Yamaguchi Prefecture which has a unique feature of its high amount of meat, toughness, and intense flavor which is suitable to steaks.
The level of Wagyu Beef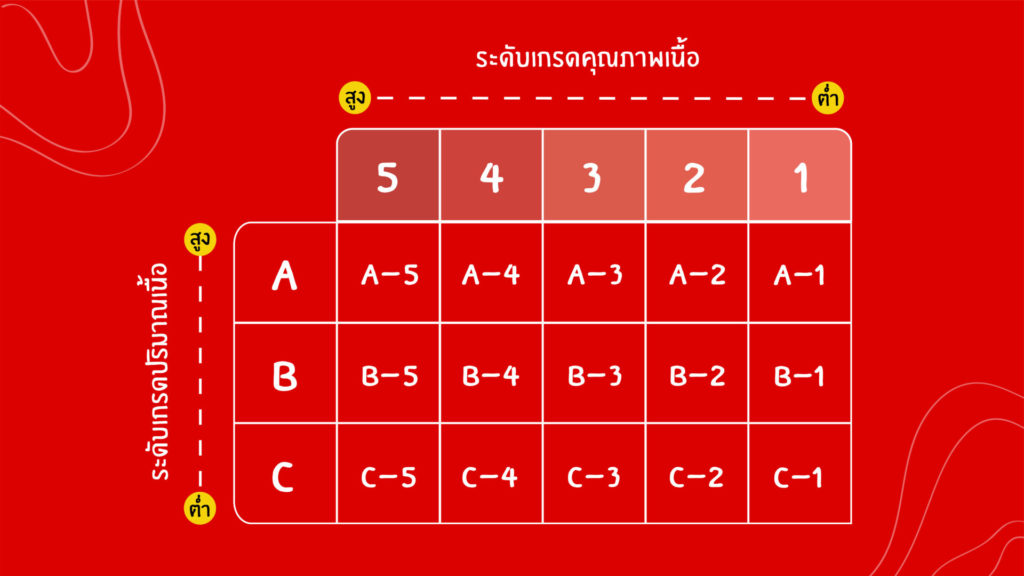 Wagyu Beef is divide into 15 levels. As we all know A5 beef is the highest level of Wagyu meet by grading according to Japan meat grading association that is separate into 2 parts.
The letters (A,B,C) denotes the level of meat content in descending order.
A is a portion of meat that can be eat more than 72%
B is a portion of meat that can be eat 68-72%
C is a portion of meat that can be eat less than 62%
Numbers (1-5) refers to the level of meat quality
Measured by the amount of marble fat pattern in the form of flesh numbers. There will be more marble fat strips respectively. Other factors, such as meat color, texture, fat color also affects the quality of meat. Level 5 meat is consider to be the best quality of the meat.
Recommended restaaurants for Wagyu beef lovers
Hungry Hub recommends restuarnts that offer high quality Wagyu meat especially for the meat lovers because people believe in great quality as well as great fregrance of the meat and taste. Tenderness of Wagyu beef is very unique and there are several restaurants that create different dishes from Wagyu meat.
Copper Buffet
Copper buffet is an international buffet restaurant with luxurious design style located in Pinklao area with varieties of new dish menus which are very delicious, unique, suitable for buffet lovers and worthy price.
Recommended Promotion: Hungry Hub exclusive menu that offers Wagyu Beef steak, Wagyu Beef speghatti, wagyu beef noodles or truffle soup with speacial premium price which is 1500 THB.
Wagyu Steak house
If you are looking for luxurious view, great ambiance, positive vibes with premium menu near phuket. Wagyu Steakhouse is recommend because it has various types of menus to offer in which meat lovers can have wide range of choices such as Argintanian Angus, USD black angus and many moree with drinks that can be replenish limitlessly.
Recommended Promotion: Set of 3 dishes and 1 side dish (Beef menu) accompanied free flow non-alocoholic drinks. You can choose upto 3 dishes such as Argintanian Angus, USD black Angus, Fines De Clairre oysters and furthermore, (unlimited refill available for 2 hours).
Lets Meat bar and grill
Any meat lovers in Phuket with Lets meet bar and grill, a restaurant that offers more than 70 international menus to choose from. It can be a meat lovers paradise because there are wide range of menus to choose from such as Tajima Wagyu Frank, Tajima Wagyu burger etc with limitless replenishing of beverages. There are 2 packages you can choose from which are Standar package which is 790 bath / person and premium which is 900 baht per person.
Fat beef
don't miss out to try Fat Beef which only focuses on meat and it is located at the heart of Bangkok. There are varieties of meat menus which are recommend to try such as Wagyu Rib Eye beef, which perfectly pairs with rice, Wagyu Beef steak cut with crispy Gariic Rice, Wagyu beef steak cut rice with Garlic butter, stir fried basil steak cuts, Truffle soup etc.
New York Steakhouse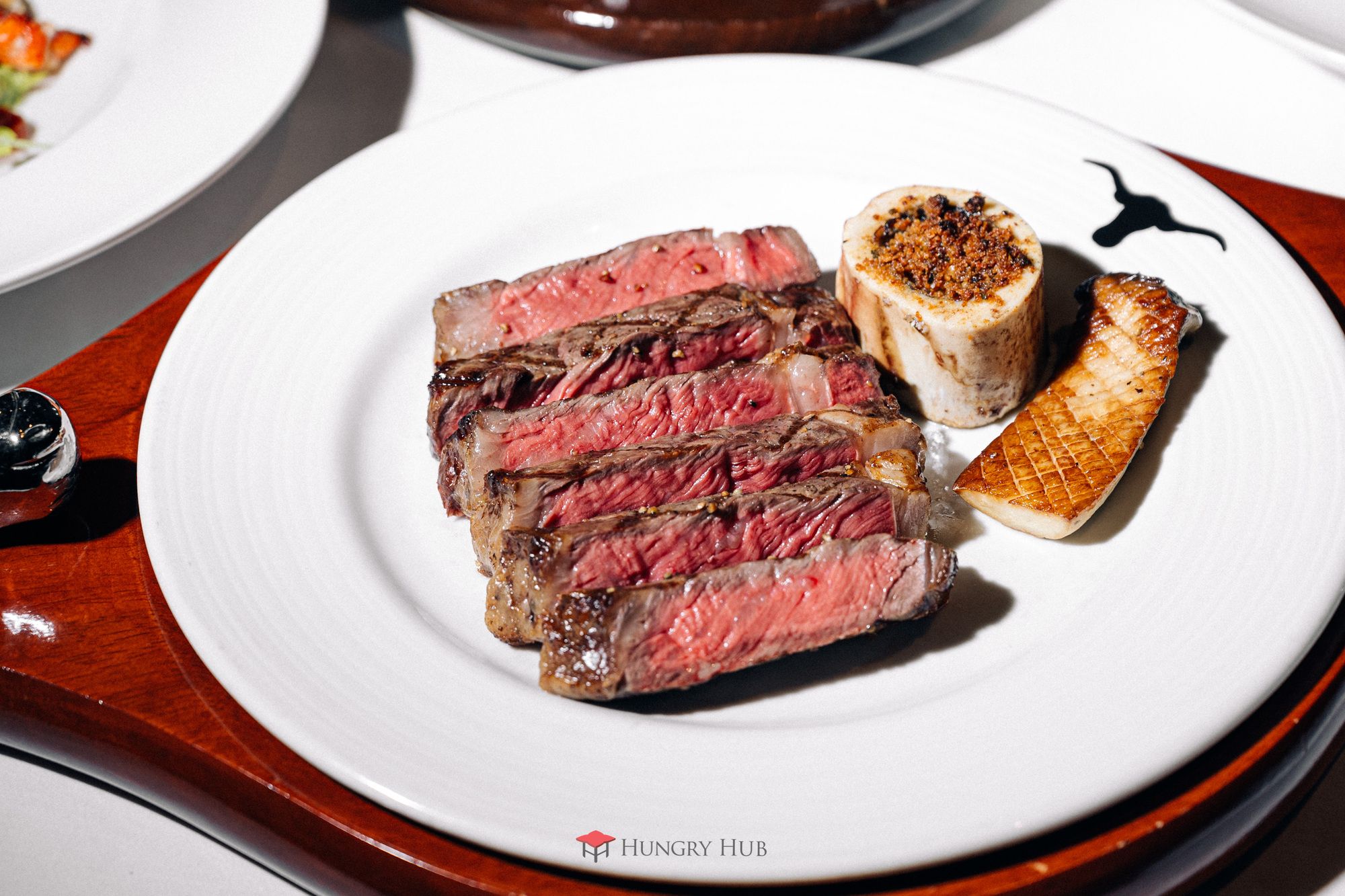 Continue travelling to the shop which you dont have to fly as far as New york. But you can enjoy the New york style steak at Newyork Steakhouse located near BTS ploenchit. There are varieties of premium menu options like Australian Wagyu grain fat beef, and more with baverages that can be replenish for free.
Tia Bushery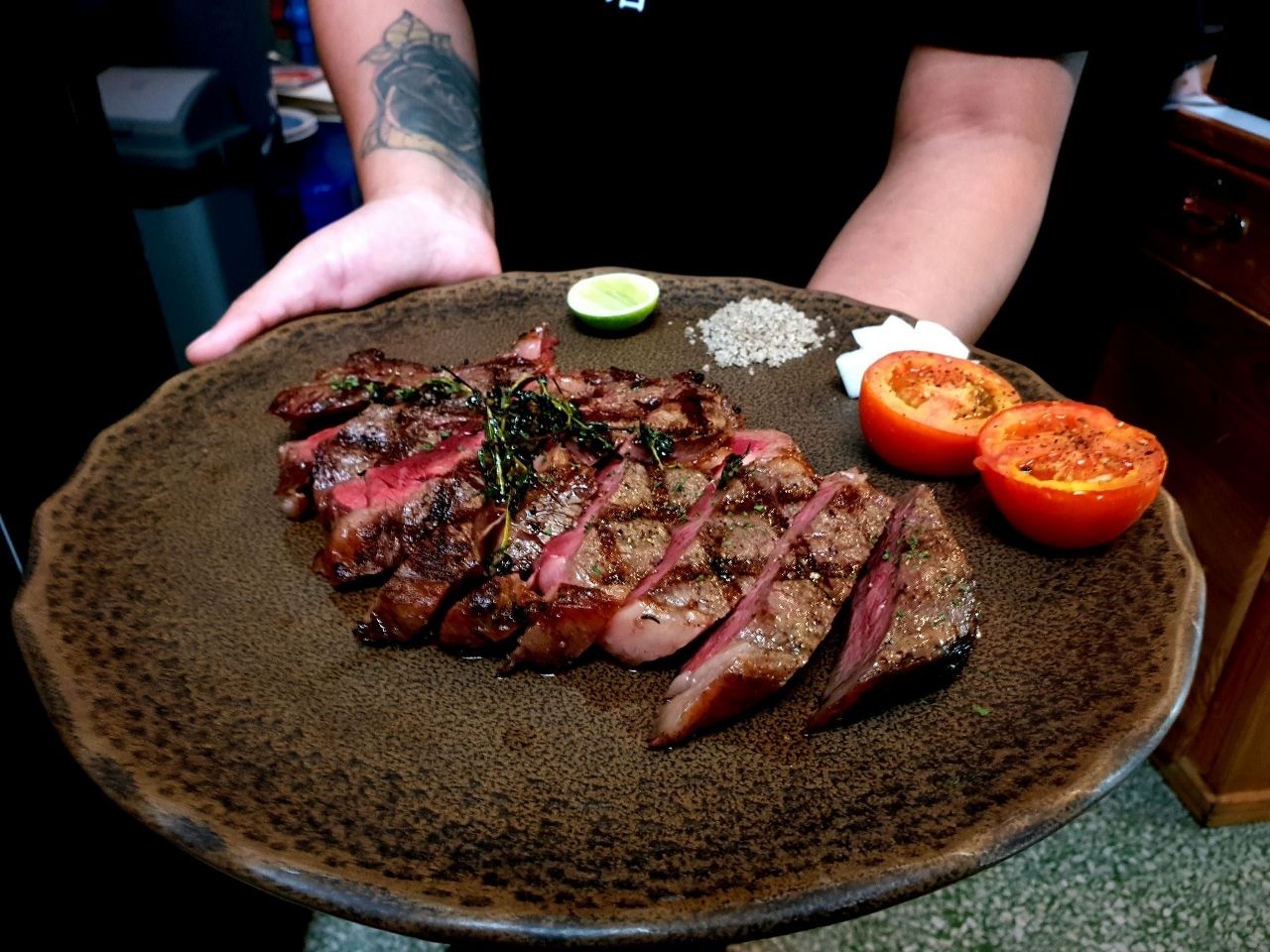 Please stop by Tia Bushery because Tia Bushery offers Thai Wagyu beef by Thai agriculture that creates various localized menus such as Sunbathing Wagyu Beef, Dry aged beef tongue, Burrata truffle cheese, Beef rice bowl, Picked Egg in a flat form accompanied with sauce recipie such as Jaew Sauce, Truffle sauce, Black pepper sauce, and many other more dishes that will satisfy cravings of all the meat lovers.
I can guarantee it to you that you will feel very hungry on wagyu beef after reading this. Hopfully Hungry Hub is providing knowledge to those who reads it. If you are a Wagyu beef fan, then these restaurants is a must try for you.