Hello foodies! Today Hungry will walk you through the story of Truffle, one of the most wanted ingredients for the foodies with the iconic taste and its complex aroma. However, the price is raised by the rareness of the ingredient. Why does it have such a high demand? Let's find out.
#Did you know? In France, 'Truffle' earned a title of the Diamond of the Kitchen as once it auctioned up to 300,000 baht for just 1 kilogram.

The Kitchen
Benefits of Truffle
Truffle is packed with wonderful ingredients that benefit our health. It is rich with high-density lipoprotein and it is trans fat free. Also, it contain vitamin e, vitamin k, and antioxidants. It not only helps decrease LDL, nourishes your body, prevent cancer, enhance sexual performance and help freshen up the health but also reduce the chance of getting various of diseases that relevant with blood stream, clogged fat, heart disease, and vascular disease.
Truffle can be devide into two kinds which are white truffle and black truffle
The differences between white truffle and black truffle
White Truffle : Many people know it in the name of the world's most expensive mushroom. It is common to find in the winter during November and sometimes until February. White truffles that cost the most are from Piemonte and Alba in Italy. Plus, it is very valuable, worth the same as the diamond. On the other hand, it has an iconic taste. If you have tried, it's a unique worthwhile experience.
Black Truffle : In France, especially in summer, it is the time where you can find black truffles the most. However, nowadays you can find it almost all year. Oftentimes, it is a raw material in the dishes for several luxury restaurants in France. The appearance of black truffles is not different from white truffles but it clearly has a lighter taste compared to white truffles.
Thailand also accidentally discovered white truffle in Doi Inthanon National Park by the researcher in sustainability development of natural resources of faculty of Science, Chiang Mai University. It is distribute in the particular area by the perennial plants. Afterwards, the research team brought it back to run a DNA test to find out the species and it has been confirmed that it is truffle. Then requested the royal to name it after Her Royal Highness Princess Maha Chakri Sirindhorn which was given the name 'white truffle Thep Sukhon'.
The deliciousness and charming aroma comes with the way the chef creates a thin slice out of the truffle into a hot plate served on the table. The steam of the dish makes the aroma infuse and shows its unique aroma. It can be said that no one would ever refuse that plate.
What can be created out of Truffle?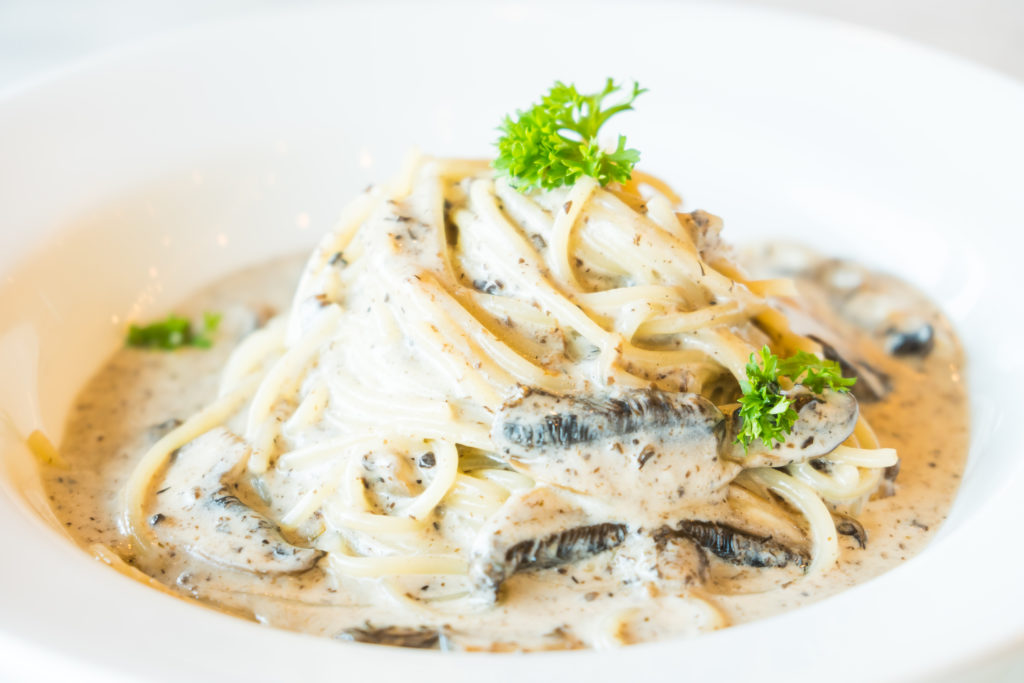 Apart from that, truffles can also be used as an ingredient for a variety of products whether it is truffle oil, sauce, cream, spread cheese, and many more. There are numerous menus that can apply these products to improve the plate.
However, after reading this blog, if you are hungry and keen to have a meal that includes truffle, Hungry Hub has a number of partnered restaurants that could provide what you are looking for.
Copper Buffet
One of the menu item that is talk of the town cannot be anything other than truffle soup that fascinated everyone that has tried. Apart from that, there are a variety of menus that are delicious such as Minayi oyster with the intense taste and tender foie gras steak with passion fruit sauce. Last but not least, you cannot miss Asian style marinated Lamb chop with balsamic sauce. Let's enjoy your meal with fellas.
Recommended Promotion : Buffet Plus : Hungry Hub Exclusive Menus. All you can eat with 1 free special premium menu. Start from 1,590 Baht/person

Seafresh Riverside Buffet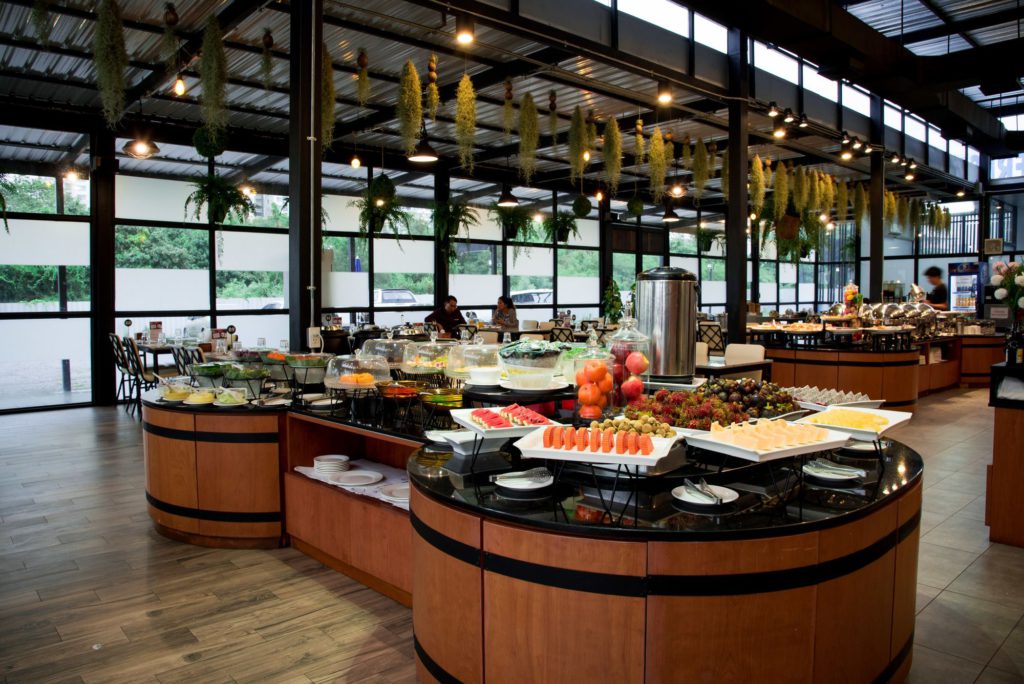 A la carte buffet restaurant. Served seafood and national style by Jao Phraya river, pass Btr Wat Pariwas for about 400 meter. There are many more premium seafood for you to consume such as Wagyu sushi, Truffle soup, grilled river prawns, spicy salmon and more than 40 other menus.
Recommended Promotion : Buffet Plus : Standard Menu. Seafood Buffet. Grilled river prawns, Oyster, Stir-fried crab with curry powder, spicy salmon and more than 40 other dishes. Start from 699 Baht/person

Prime Skyview Hotel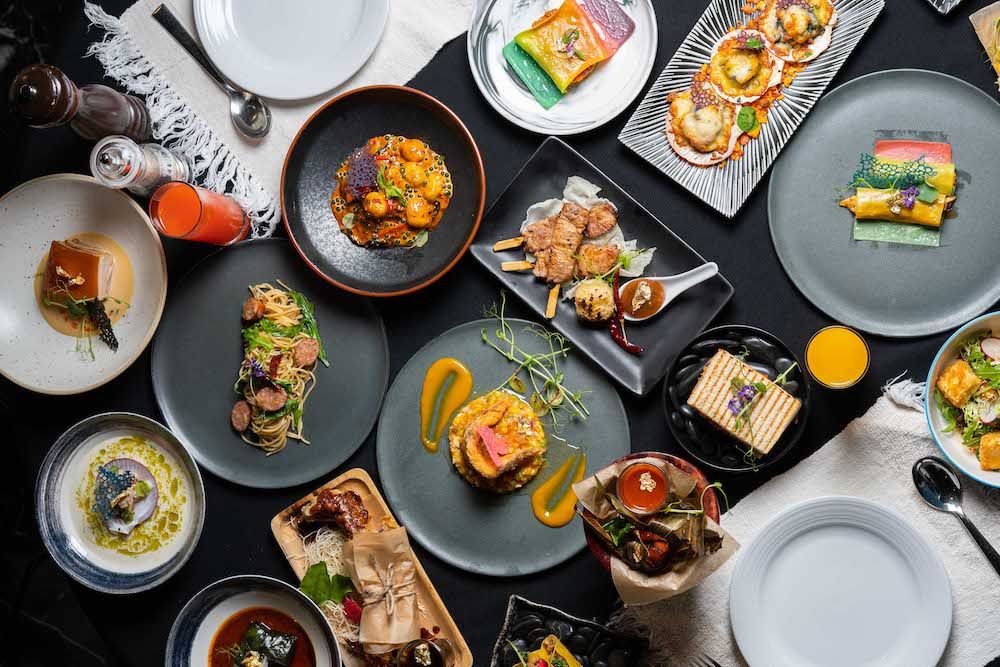 Prime on 7th floor, SkyView hotel, Sukhumvit 24. Industrial style International restaurant with a slight of modernness with 5 star service. A variety of buffet lines with premium raw material whether Grilled prawn, Grilled pork ribs in Mongolian chilli sauce, or Fried salmon larb. Not to mention truffle menus that include Wagyu grill served with truffle sauce and sweet mash potato, and Cannelloni with truffle sauce for you to try.
Recommended Promotion : International A la carte Buffet : Full 90 minutes International buffet. Start from 790 Baht/person

How do you feel after the journey of Truffle with a recommendation of a fine restaurant. After you finish reading the blog, don't forget to try truffle menu and see if you like it. You can share your thought with us. Stay tuned for an upcoming stories and restaurant recommendations!
More interesting articles