Haven't Met Hotel Silom can be reached by foot in just 3 minutes from Chong Nonsi BTS Station. Level 9 is where you'll find The Moments Rooftop Bar. Hungry Hub would be providing a thorough description of the restaurant, and letting you know whether it is worth a visit.
The Review of The Moments Rooftop Bar at Haven't Met Hotel Silom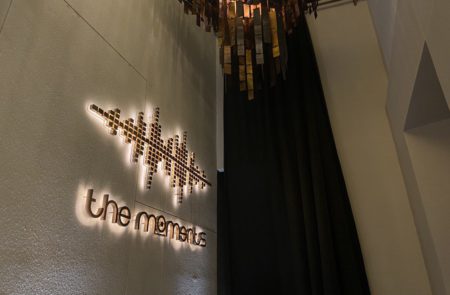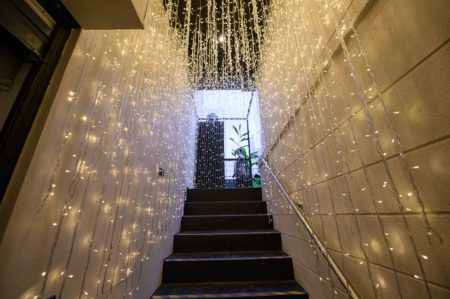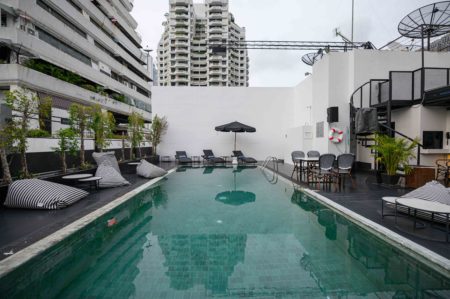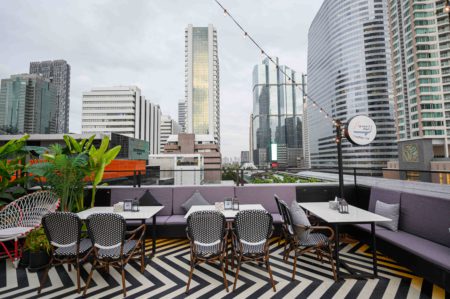 As soon as you exit the elevator at level 9, you'd be greeted by a "The Moments" sign. Continuing forward when you enter the restaurant, there are beautiful fairy lights that lead you to the dining area. In my opinion, this is one of the best photo spots as it is really aesthetically pleasing. The rooftop bar has plenty of cosier seating areas around the pool. If you're worried about getting wet, there are tables that are farther away from the pool.
The Moments Rooftop Bar has a perfect view of the King Power Mahanakhon building, a new architectural landmark in Thailand that stands at 314 metres. The restaurant plays popular pop music and has a television that broadcasts sports matches.
Enough about the ambiance and setting of the restaurant, let's move on to the most crucial aspect: the food. They serve a wide array of international cuisines with many choices of cocktails here.
To preserve the original flavour and tenderness, Tenderloin Wagyu often requires attentive cooking techniques. This dish was the epitome of a perfectly cooked Tenderloin Wagyu. It had a perfect balance of juiciness and easy-to-eat meat.
It came with a side of creamy baked potato with sour cream and bacon bits. Honestly, I was not expecting much but this baked potato was really delicious and not too salty. The harmony of flavours was excellent. This dish is a must-try at the restaurant!
2. Salmon Sake Cream Sauce
I would think that I am somewhat trustworthy when it comes to rating salmon because salmon steak is one of my favourite dish and I have tried many various kinds of salmon steak. This Salmon Sake Cream Sauce did not disappoint, and it was one of the dishes I liked most at the restaurant!
Salmon can be easily overcooked, which will make the meat tough and difficult to chew. But this dish was prepared flawlessly, and the steak was incredibly tender. The dish was topped with Ikura, Japanese fish eggs, along with a flavourful, light cream sauce.
3. Nori Pesto Soba Hotate
This Italian and Japanese fusion dish, Nori Pesto Soba Hotate, really captivated my attention. At first, I assumed that putting pesto over soba noodles would not be a particularly tasty match. But it turned out that I was mistaken.
The pesto sauce had a fragrant aroma and a silky texture that paired perfectly with the chewy soba noodles. The dish was made even more delicious by the fresh scallops, which were incredibly soft and juicy. Do note that the serving is rather large!
My absolute favourite dish is the Wagyu Truffle Tataki, which I consumed almost all by myself. The term "tataki" refers to a Japanese technique for preparing fillet beef that involves lightly searing, marinating, and slicing the flesh thinly like sushi.
Since the sauce wasn't very salty, the dish could be consumed by itself. The symphony of flavours truly worked together well because the truffle flavour is not overpowering. The dish got me craving for second servings.
5. Kurobuta Spices and Herb
"Kurobuta" is used to describe a particular variety of pork that is native to Japan. For its outstanding quality, softness, and flavour, it is recognized. The term "Kurobuta" means "black pig" in Japanese, which refers to the pig's distinctively dark coat.
The Kurobuta Spices and Herb was a little dry, but when dipped with the sauces provided, it was really appetizing. The dish was served with the same baked potato as the Tenderloin Wagyu.
6. Creamy Tom Yam Udon Seafood
If you are a fan of spicy food, the Creamy Tom Yam Udon Seafood is perfect for you! As the noodles were so soft and the tom yam sauce was delicious, I truly loved eating the dish. The dish's fresh seafood was juicy and flavourful as well.
However, because of my extremely poor spice tolerance, I was unable to completely enjoy the dish because it was far too spicy for me. Nevertheless, I kept reaching for more because it was so good.
The Ebi Tempura was presented in a spectacular platter, which made us pause for many pictures. The shrimp offers a delicate and delicious flavour, while the golden, crispy batter adds a pleasing crunch.
If you want more side dishes, I suggest that you order this dish because it can never go wrong.
8. Wagyu Meatball Spaghetti
I am not exaggerating when I say that this Wagyu Meatball Spaghetti is possibly the best spaghetti I have ever had. The spaghetti noodles went nicely with the tomato sauce because it was really thick and not overly salty.
The wagyu meatballs were likewise well prepared. The burst of flavours in my mouth persisted after I bit into it.
9. Sashimi Cucumber Salad
The fresh Sashimi Cucumber Salad was a wonderful starter. With the addition of radish and other toppings, it was beautifully presented and turned out to be really colourful.
Taste wise, it was really pleasant. You could dip it in the soya sauce provided alongside the meal for more flavour.
Squid is the key component in the savoury Thai meal known as Lab Pla Muek. While "Pla Muek" is translated as "squid" in Thai, the word "Lab" refers to a typical Thai salad.
Given that it is a Thai dish, it undoubtedly has a kick of spice, which I found to be too strong. It was very good after I took a bite. The squid was incredibly tender inside while the outside was crsipy.
Overall, I had a great time at The Moments Rooftop Bar at Haven't Met Hotel Silom. I thoroughly enjoyed my dinner experience thanks to the excellent food, pleasant atmosphere, and friendly staff!
Hour: 5:00 pm. – 11:45 pm
Location: 188-188/1 Soi Pipat 2, Naradhiwas Rajanagarindra Rd, Silom, Bang Rak, Bangkok 10500
Recommended Package:

Sharing Set for 2 People with Free Flow Alcohol (90 Mins)

(Set of 2 dishes such as Creamy Tom Yam Udon Seafood and More Menus with Drink) Book via Hungry Hub at the NET price of only 1,650 Baht!
Hungry Hub hopes that you would visit The Moments Rooftop Bar at Haven't Met Hotel Silom for yourself so that you may truly feel satisfied after the meal. We sincerely hope you enjoy yourself there!
More interesting articles
The Hidden Gem: Explore S Café at S31 Sukhumvit Hotel